Enrollment time again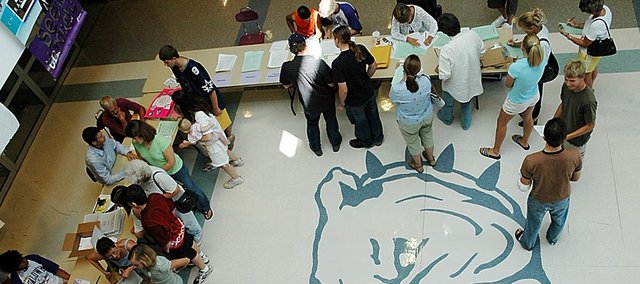 With the summer winding to a close, area schools are preparing for a new batch of incoming students. Enrollment days for many schools will be Friday and there are also events planned for students and their parents.
The district's grade schools-Vinland, Marion Springs, and the Baldwin Elementary School Primary and Intermediate centers-all have their enrollments Friday. There will be morning and afternoon sessions for enrollment from 9 a.m. to 1 p.m. and 3 p.m. to 7 p.m.
"It's an exciting time right now," said Gus Wegner, the principal for both Vinland and Marion Springs elementary schools. "The community views the beginning of the school year as the start of something new, new things and new teachers."
Wegner is serving as principal of both elementary schools for the first time this year and said, although he's been busy, he thought things were going well and the year would be a success. Wegner plans to spend the first part of enrollment day at Vinland and the second part at Marion Springs.
Wegner was also excited about the work Vinland's Beautification Committee had done on the school. The committee had met over the summer and created butterfly and shade gardens, as well as doing maintenance work inside the school.
"We wanted to make the school look nice for the kids," Wegner said. "We've already had some unsolicited comments from people saying that they like Vinland's look and those are the kinds of comments we like to see."
Tom Mundinger, principal of BESIC, said he was also eagerly anticipating enrollment and the start of a new school year.
"The start of school is always exciting," Mundinger said. "The building's clean and shiny and everyone's looking for a new start. That's one of the nice things about working for a school is you have a new start every year."
While the elementary schools all have their enrollments at the same time, the high school and junior high school both have more varied enrollments. Like the elementary schools, Baldwin High School's official enrollment day is Friday, but parents can also come in to enroll after that between 8 a.m. and 4 p.m.
"We want to get off to a good start," said Shaun Moseman, BHS principal. "We're in pretty good shape and ready to go. This is going to be a good year."
Moseman expects around 400 students and parents to show up for enrollment Friday. Parents enrolling then will have the opportunity to see the changes the school has undergone in the summer, Moseman said, including a new parking lot in front of the school and new paint decorations provided by the school's National Honors Society.
Moseman also had advice for incoming freshmen.
"Get involved as possible," Moseman said. "You're only in high school once, so stay involved in sports and clubs and academics. This is the first time you're going to have your grades on transcripts that will be sent to colleges, so definitely stay focused on your schoolwork."
Freshmen will also have the school to themselves on Aug. 15. During the day the students will participate in workshops, attend informational meetings about school policies and rules, and meet their teachers. Moseman said the day provided the freshmen with the opportunity to become acclimated to their new environment.
In addition to enrollment, parents will also have the opportunity to attend an orientation day on Aug. 27 from 6 p.m. to 8 p.m. where parents will meet their student's teachers.
Hoping to increase flexibility for parents, Baldwin Junior High began allowing parents to enroll their children on July 15, although the official enrollment is still Friday. Following Friday's official enrollment day, the office will also be open for late enrollment between 8 a.m. and 3:30 p.m.
BJHS Principal Connie Wright said the school had already enrolled 131 children through early enrollment, which would make the actual enrollment day a lot less busy. The school started doing early enrollment several years ago.
"It used to be very hectic," Wright said. "Now it's much easier for everyone involved. The lines are shorter, and there's more time for parents to ask questions."
Similar to the high school, the junior high also has a day dedicated solely to students new to the building, called Sixth Grade Transition Day. The day is Aug. 15 and only sixth-graders will be attending school.
"It's a wonderful day because kids have the opportunity to see the building in a little different setting than they usually have," Wright said.
Wright also said parents could help their students who are transitioning from elementary to junior high school.
"My advice is to be calm," Wright said. "Communicate with the office and teachers. Your kids are going to be great."