Camp week excites players for season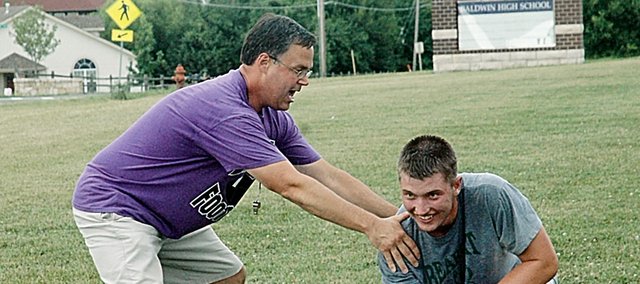 For the first time in many years, Mike Berg isn't using his week of summer camp to install a new offense.
Instead, he is having his Baldwin High School football players improve the offense that led the Bulldogs to a 10-3 record and state semifinal round a year ago.
A year ago, Berg implemented the run-oriented single wing offense at BHS. He hopes this week of camp will give his players time to refresh themselves with the offense, while improving on it simultaneously.
"We are just working on all basic schemes," Berg said. "It's nothing new this year, which is nice. The learning curve is minimal. We are way ahead of where we were last year."
Some of the BHS players have also enjoyed not learning a new offense this week. In past years, the Bulldogs have run the wishbone or power-I formations.
Last year, Sam Beecher, now a senior, was the Bulldogs' leading rusher. He returns this season and is happy to be sticking with the single wing.
"Yeah, it's really nice. It will make this camp and the first few weeks of practice go by a lot smoother," Beecher said. "It allows us to go full speed because we all know it from last year."
Fellow senior Logan Schiller agreed with Beecher about being ahead of last year by keeping the same offensive scheme.
"Not learning a new offense is a lot easier and I think last year in our first few games we were still struggling to learn it," Schiller said. "This year we should be a step ahead of last year's team."
Of course, the weeklong camp isn't all about improving the offense. Berg and his coaching staff have the players working on many aspects of the game. They have been working on offensive and defensive schemes, individual skills and tackling.
"We have broken down tackling like they've never played the game before," Berg said. "It's so important on defense. Some of the guys are asking why we are doing this since they've known how to tackle for years, but it's important. If someone does it wrong, they can get seriously injured."
Despite the importance on technique and schemes, Berg also wants his players to enjoy the week of camp. After the first two days, he believes they are having fun each night.
"The guys are really having a lot of fun and that's what camp is all about," he said. "It's fun to be out there with them. They're smiling and patting each other on the backs. They are enjoying football and that's going to carry over into the season."
Both players have enjoyed the first few days of camp. Beecher was especially happy with the players' attitudes.
"Camp is going great," he said. "We've really had a great turnout. The best thing about camp is the intensity, though. The very first thing we did was conditioning stations and everybody worked so hard and were picking each other up it was just a really great way to start off camp."
Schiller has been having a great time at his final BHS summer camp.
"It's going really good," Schiller said. "There is a lot of energy and excitement for the season to start. The camp has been fun. On a scale of one to 10, I would give it an 11."
The most enjoyable part of camp is the hog ball games on the final day. The Bulldogs are already looking forward to Friday's games.
"I'm real pumped up for hog ball," Beecher said. "Last year we juniors almost took out the seniors, so I'm saying we're the favorite to win the little class tournament this year."