Mediocre wheat crop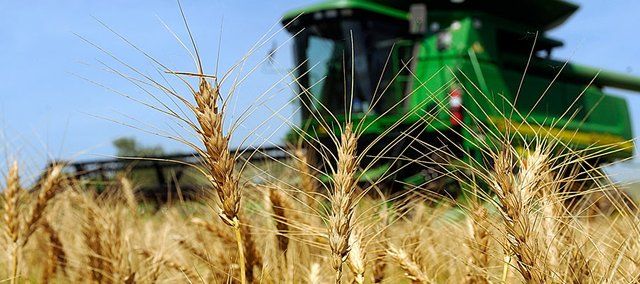 The wheat harvest is over in the Douglas County area, and the results were unimpressive at best, farmers and agriculture experts said.
"It wasn't that great," said Bill Wood, agricultural agent for K-State Research & Extension in Douglas County.
Extreme wet weather last fall and again last spring was the culprit.
The weather caused what is called head scab, a fungus that reduces wheat yields. Much of the wheat taken to Ottawa Cooperative Association elevators was damaged by scab, assistant manager Calvin Pearson said.
"Some of the earlier wheat was decent, but as we got into the season, we saw wheat that was diseased pretty bad," he said.
Wheat production in area fields ranged from 20 to 30 bushels an acre, with a few up to 40 bushels an acre, Wood said.
The average for wheat production in Douglas County from 2002 to 2006 was 46 bushels, he said. Most farmers would prefer a 50 to 60 bushels per acre production, Wood said.
Douglas County farmer Mike Craig noticed a big difference between the first acreage of wheat he planted in October and wheat he planted a few weeks later.
The second planting was delayed because of three weeks of constant rain, he said.
"The wheat we got in before the rain, it was around an average, 25 to 30 (bushels per acre)," Craig said. "But what we planted about a month later, it was lucky if it made 15."
Statewide, however, the wheat crop has been good. Earlier this month, the Kansas Agricultural Statistics Service predicted the state's wheat production to be 366.6 million bushels.
That is 29 percent higher than last year's crop, according to the service.
Northeast Kansas has wetter weather than western Kansas, and that is why the region doesn't produce as much wheat as the west, Wood said.
"Back here we've got the rainfall, which should make it better than western Kansas, but we've also got the humidity," he said. "The humidity allows the diseases to really hammer our wheat."
Wheat prices fluctuate but have generally been good. A week ago, the U.S. Agriculture Department predicted the average wheat price would be between $6.75 and $8.25 per bushel. This week, the price was nearly $8.
"The prices were halfway decent; we just didn't have anything to sell," Craig said.