Wanted: talent for Vinland Fair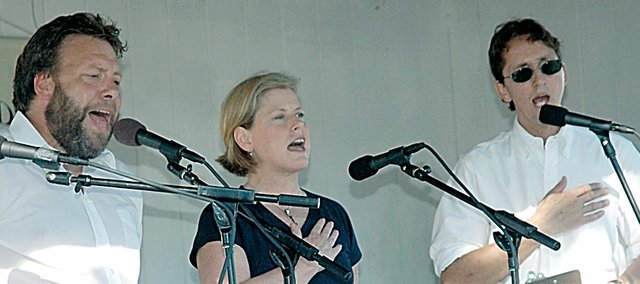 With the Vinland Fair quickly approaching, planners are already working to prepare for one of its popular events: the talent show.
Baldwin City resident Matt Kirby is in charge of planning the talent show again this year, a position he has held for the past seven years.
"It's one of those things in the world that's just good." Kirby said. "It's an uncomplicated, delightfully accessible thing, and it loves you. People who contribute to it are always happy they did."
Kirby, who is originally from Massachusetts, said the fair and its talent show provide a slice of Americana unlike anything he ever saw on the East Coast or anywhere else.
"There's something about the Vinland Fair that is just different," Kirby said. "It's something people put on out of pure love."
This year, the fair begins on Aug. 7 and lasts until Aug. 9, with the talent show, as every year, taking place on the first day of the fair. The talent show begins at 6 p.m. and will last roughly an hour and a half. Between 100 to 150 people attend the show each year, Kirby said, and around 15 different acts usually perform.
"It's a very interesting talent show," Kirby said. "There are a lot of little fun things people do."
With the talent show still weeks away, Kirby said two prospective acts have already approached him, and, coincidentally enough, they both feature the same instrument.
"A couple of people have mentioned different acts and both of them involve the tuba, which is always pretty fun stuff," Kirby said.
In addition, to those two acts, Kirby also expects some of the talent show's staple acts to return, such as a Beatles cover band called Vera, Chuck and Dave, while Kirby also expects that the Baldwin High School band will play a role in the show, as in years past, and he has been talking with its director, Will Cooper.
Kirby said he enjoyed seeing some of the same performers come back year after year, but he also wanted to encourage new talent to join the show.
"I try to keep tabs on past performers and also find new people," Kirby said.
Kirby said that, although the idea of performing on stage in front of people could seem daunting, the show in fact provides a very relaxed atmosphere for people to showcase their talents.
"The show is a very low-pressure situation," Kirby said. "Chances are, if you make a mistake, no one cares or it just makes you more lovable. It's a lot like entertaining aunts and uncles after lunch on Sunday, almost like a family thing."
While most of the acts in the talent show involve singing, playing music, or dancing, Kirby said acts of all kinds could be featured in the show, as long as they are family-friendly. In the past, children have performed skits at the show, while Kirby said he would never forget an act that involved a woman hypnotizing a chicken. Last year, one of the performances involved a dancer performing a tradition Turkish belly-dance.
"When you pool these resources it's a really great discovery to see what everyone in the community can do," Kirby said. "I'm frequently pleasantly surprised by what people do, the talent in the air, and the sense of care and the sense of humor they put into it."
Those wishing to perform in the talent show this year can contact Kirby at (785)766-2135. There is no strict deadline for entry into the talent show, but Kirby said he prefers for people to contact him at least an hour before the show begins.