Beins living in hog heaven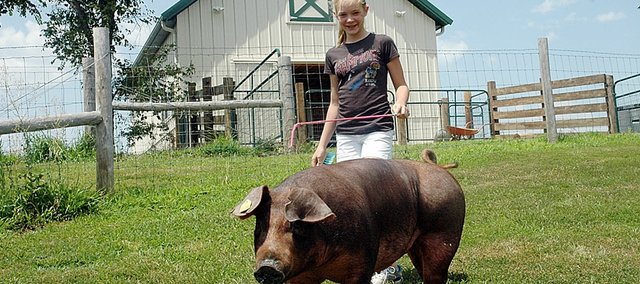 A year ago, the Beins family's three little pigs took home an award for the Palmyra 4-H Club.
One of those even earned a supreme award.
Baldwin City's Olivia Beins was honored with a Grand Champion Market Hog at the 2007 Douglas County Fair. The announcement took her by surprise last year.
"It was a great honor," Beins said. "We weren't expecting that at all. We knew I had a really good pig, but we didn't think it was going to do that well. It was really cool. It was like 'wow.'"
In only four years as a 4-H'er, Beins achieved an honor many area youth aim for every single year. Beins, soon-to-be an eighth grader at Baldwin Junior High School, acknowledges that she was one of the youngest to ever win the grand champion award.
"I was like 'oh my gosh, I just won,'" Beins said. "I had been watching the show for years and it was always older kids who would win. I was like wait; I've only been in 4-H for four years. It was really cool."
At that moment, her father, John Beins, couldn't have been prouder of his daughter. It was a moment, the family will never forget.
"It was a very proud moment," John Beins said. "In our swine project, we have learned more about it. We've learned more about the animals and more about how to care for them. You never know when you're going to get a winning pig when you choose them as a little animal. Then, 260 pounds later, you find out that your animal's genetics, disposition and ability to show all fell together into one place. So we were very fortunate."
In fact, that hog wasn't the only successful pig for the Beins family at last year's county fair. They also entered all three of their hogs in the Pen of Three contest, which is a competition between the different area 4-H Clubs.
The Palmyra Club wasn't going to enter the contest, but at the last minute, told the Beins to enter their three hogs. When all was said and done, the Beins' trio won the Pen of Three for the Palmyra 4-H Club.
"In fact, they have what is called the Pen of Three, which is where each club can choose three of its best animals," John Beins said. "We forgot to enter that as a club last year, so the club told us to take our three pigs that we brought to the fair. Those three pigs won the Pen of Three. So that's another stroke of luck. It's just all been a blast."
In hog heaven
Although the Beins family has had some recent success with their hogs, they are fairly new to the game. During the last five years, they have become part of the swine livestock business - at least as far as fairs are concerned.
Olivia Beins first took an interest in 4-H because a close friend of hers was involved in the program. She also wanted to attend the Douglas County Fair in Lawrence every summer and this was her ticket to the fair.
"I don't really know why I joined, but I was in Girl Scouts before 4-H," Beins said. "My friend Katie Pattrick was in 4-H and she was telling me about it. Plus, I always wanted to go to the fair. We never had until I joined 4-H and now we go every year."
It was her friend, Pattrick, that also got her started showing hogs. During her first year, Beins kept her hog and Pattrick's hog at her barn. She did other contests, but the hog show soon became her favorite.
"I had one pig, but we kept Katie's pig at my house also," Beins said. "We did pretty good with those pigs and I also had some cooking and flower entries. I really liked the fair.
"I have no idea why I decided to show pigs," she said. "I was choosing animals and I probably could have gotten a dairy calf or heifer if I wanted to, but I just thought I would do pigs. Now, I've been doing it ever since. It's a lot of fun and I really enjoy showing my pigs each year."
Despite the county fair being a new experience for Beins, it wasn't for her parents. Both John and Kathy Beins, her mom, were involved with 4-H when they were younger and Kathy even showed hogs for a couple years.
John participated in 4-H for six years and Kathy was involved for around 10 years. Some of his contests included woodworking and cooking, while his wife showed dairy cattle and even hogs. Now, 4-H has come full circle with Olivia's participation.
"The fair is a big event for the whole family," John Beins said. "My wife experienced showing animals in her 4-H experience as a youth and I was in 4-H, too. So we take a vacation for basically the whole week to be a part of the fair. Unfortunately, it's a very hot time of the year, but it's a fun time."
Fair time : again
The 2008 version of the Douglas County Fair has begun. The 4-H'ers were busy Monday and Tuesday with the fashion show and revue. Beins even participated in the fashion contest as one of her many entries this year.
She will also be involved in several other contests, including cooking and photography.
"I have four pigs down at the barn for the fair this year," Beins said. "I have pumpkin nut bread that we just made. I also have peanut butter cupcakes that are really good. I've also got flowers for horticulture, cantaloupe, tomatoes and some other vegetables. I've also got my photography pictures along with fashion review."
When asked what her favorite contest is after the hog show, Beins was quick to say photography. She has begun to take a strong interest in photography and even had a picture make it to the nation's capital last year.
"I think I like photography next best," Beins said. "I've done pretty well in it. Last year, I sent one of my pictures of a butterfly to the state fair and it got a purple (ribbon) at the state fair. Then it was chosen as one of five to go hang in Sen. (Pat) Roberts office in Washington, D.C. It's cool, because I just thought photography would be fun."
But, of course, the hog show is the family's focus. Her father said they are excited for the show, but sometimes ready for it all to be over with.
"It's always good to be done with the projects," John Beins said. "We have a good pig and we think we'll be in good shape to show well."
When not showing hogs or photography, Beins and her parents try to take in as much of the county fair as possible. She even wants to watch the popular demolition derby this year.
"We enjoy the boardwalk, the food booths, other animals and the hay bale throwing," John Beins said. "She even enters the hay bale throwing contest and she goes on the rides."
"My parents never want to go to the demolition derby, but I'm going to go this year," Olivia Beins said. "My brother and sister are going to the fair and they're going to take me to the demolition derby. I've wanted to go, but my parents don't think it's fun. It will be a lot of fun."
A schedule for the fair's events can be found online at www.dgcountyfair.com.