Fun-filled youth camps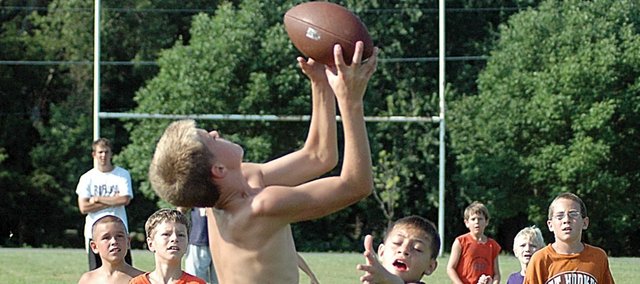 High school and junior high school students aren't the only ones actively involved in athletics during the summer months.
Dozens of Baldwin City youths have been busy with summer camps during the past two weeks. They have been busy playing volleyball, basketball, soccer and football.
All of the camps have been hosted by either Baldwin High School or Baker University coaches. Despite the different sports being taught, the goal of each camp remained the same - fun.
"It's a good time each year," Baker University men's basketball coach Rick Weaver said about his camp last week. "We try to keep them moving and keep it short. I enjoy it each year. It's a good time."
Weaver hosted his camp last week for basketball players ranging from fifth grade through eighth grade. Approximately 45 to 50 players attended his annual four-day camp inside Baker's Collins Gymnasium.
He was pleased with the turnout and said many of the campers were returning from previous years.
"We had kind of a younger group this year, but many returning campers," Weaver said. "We try to keep them busy with a little fundamentals and some games. We try to have fun and teach them a bit, too. We have a little fun with some competitions. There were a lot of popsicles handed out this year."
While Weaver's basketball camp kept several children busy last week, this week the football and soccer fields are busy with action. BHS football coach Mike Berg is hosting his annual youth camp, while first-year BHS soccer coach Matt McCune is holding a youth soccer camp.
Both camps have been going all week at the same time each morning. Numbers are about par for the soccer camp, but not for football. McCune said he has around 25 campers.
"The attendance is about what I expected," he said. "I didn't advertise too much for the camp and this is about what I wanted honestly."
Berg blames himself for the low attendance numbers at his camp.
"I didn't do a very good job of scheduling the camp this year," Berg said. "The soccer camp is the same time as our camp and some of the younger kids probably chose soccer this year. But the ones that are here are having a blast and enjoying themselves."
Although attendance might have decreased, both coaches agree those that are playing are having a wonderful experience and learning a lot about their particular sport.
"I'm trying not to work them too hard," McCune said. "It's too hot to be doing that at this young of age. We are just trying to have fun and get the kids interested in soccer by playing games and having a good time."
Like most summer camps, the youth soccer players are working on fundamentals each day. They are improving their passing and dribbling skills particularly.
After 45 minutes of drills and fundamentals, it's time for some 3-on-3 games where every camper is involved. Then they finish each day with a friendly competition of soccer golf.
"The camp has been going great," McCune said. "The kids are excited to be here. They are getting a lot of touches with the ball and they're having fun. We did a passing drill for 30 minutes, but they didn't realize it was a drill because it was fun and entertaining. That's what these camps are all about. It's definitely been fun."
Berg's football camp has been similar to the soccer camp. He has tried to stress the importance of fundamentals, while ensuring the players are having fun and enjoying the few days of camp.
The players have learned offensive and defensive techniques, which includes passing, catching, running, tackling and blocking. Berg has also taught them several offensive plays each day.
However, it's the last 20 minutes of camp that the players have enjoyed the most. That's when they play hog ball, which is a game of football played similar to ultimate Frisbee.
"Today they asked me if we could play hog ball first," Berg said Tuesday. "So I guess you could say that hog ball has become the favorite part of camp."
Besides enjoying coaching the youth camp, Berg has also been using this week to prepare for his upcoming BHS camp. It begins Monday.
"I think this gets me ready, because we do some of the same technique things at our camp, too," he said. "We work on a lot of technique also. It gets me fired up and ready to go for next week. Some of my coaching staff is here this week and we've been talking football all week. I'm ready."