A new twist for Art Walk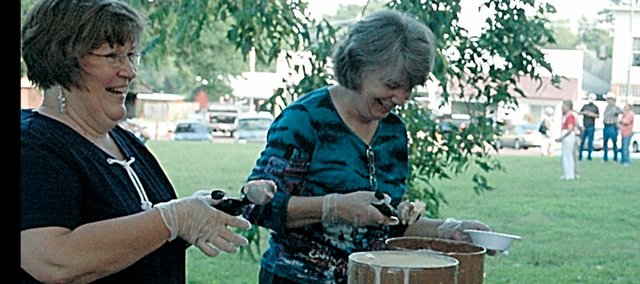 Friday's Art Walk will have the usual July fare of ice cream, music and art, but there will be even more.
"Friday night is focusing on family - the ice cream social, various artwork, quilt displays at Stephens Real Estate, the Lumberyard brick fundraiser debut and music by Spin Down," said Myra Glover, president of the Baldwin Community Arts Council which stages the event.
The new twist is the Lumberyard fundraiser.
"The Lumberyard Arts Center, Inc., will be launching a new opportunity to support the lumberyard renovation project," said Laura Dickinson, chair of the fundraising committee for the Lumberyard Arts Project. "This Friday at the BCAC Art Walk, the LAC will begin selling bricks for use in the lumberyard renovation.
"A design of the bricks will be laid down the center of the commons area," said Dickinson. "Each brick will provide a place for personal commemoration and become a lasting piece of the future Lumberyard Arts Center."
A price hasn't been set for the bricks yet, but they will be limited.
"The design has a limited number of bricks, so don't miss out on this chance to pay tribute to someone and support the LAC," she said.
Art Walk starts at 6 p.m. and lasts until 8 p.m. for ice cream and art. The band will play from 7 p.m. to 9 p.m.
"The Baldwin Community Arts Council thanks all of our residents for their support and involvement and we look forward to everyone coming on Friday evening for Art Walk," said Glover. "Bring your blanket or lawn chairs, visit with the artists, enjoy the refreshments and listen to the music.
"It's free and you don't have to drive out of town," she said.
There's a reason that the BCAC does what it does.
"The BCAC is devoted to keeping the fine arts as a viable component of our community whether it is through sponsorship of art workshops, the scholarship program for college-bound students or for the Broadway at Baker music camp, assistance with supplies and educational tools in the schools or support for the Lumberyard Arts Center Project," said Glover. "Baldwin City is a special home for many - we are a community that cares."