Grossner finds dual threat player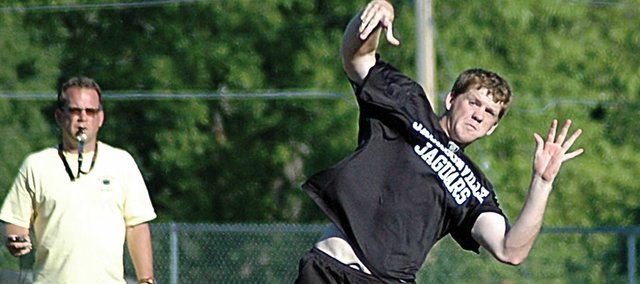 During the first 7-on-7 summer game, Mike Grossner might have found a dual threat for his team this fall.
For the past three years, Grossner and the rest of the Baker University football team have joked about using senior Eric Allen as a wide receiver. He has started as a cornerback every game during his first three years as a Wildcat.
It's a joke that Allen started, because he told his coaches that he could play both ways during a game.
"We have a running joke going for the last three years, since he's started every game, about him telling us that he can play wide out for us," Grossner said. "Of course, he is so valuable at cornerback, I've never batted an eye and said sure we'll get you in there. Every once in a while we throw him a pass in practice, but never put him in the game."
Allen's on-going joke might become a reality this fall. His coach saw enough Sunday night to make him consider using the senior cornerback on both sides of the ball during the upcoming season.
"Last night, he sold me on the fact that he can play wide out for us and make a big threat," Grossner said. "He caught the ball well and he got open. I think he had five catches, two touchdowns and a two-point conversion. I'm not a dummy, because that tells me we can utilize a guy like that on both sides of the ball."
Allen's debut as a dual threat came during the Wildcats' victory over Ottawa University. Sunday was the first of four 7-on-7 games between the two local universities.
Baker won the opening week contest 36-22 over the Braves. The Wildcats were missing a couple of starters on the defensive side and a couple of wide receivers needed replacements during the game. That's how Allen got his golden chance to prove his dual threat ability.
"It was fairly good, for the first night," Grossner said. "I told the group after the game that we kind of got some cobwebs out that night. We didn't have all of our guys there. We are missing some receivers and our two safeties.
"In that situation, we asked a guy like Eric Allen, who is a three-year starter on defense, to play safety for us," he said. "We got a good look at him and we feel that in a pinch, he could play some safety for us. Then a couple receivers got tired and he jumped over to the offensive side and made an impact. We have a couple guys on offense that we might move over to defense in certain situations and use them both ways."
Like the high school 7-on-7 passing league, coaches use the passing league to evaluate their players during the off season. Grossner and his staff are doing just that, although they know that 7-on-7 games aren't comparable to the real game.
The one major difference is the absence of the offensive and defensive linemen. However, it does allow quarterbacks and receivers to work on routes and their timing with each other.
"That's what summer 7-on-7 is good for," Grossner said. "It's good to develop your team and get some evaluations in as well. It also helps serve its purpose, which is to provide a little competition."
Baker's quarterbacks that played Sunday were junior Mack Brown, who has started his first two years as a Wildcat, and junior David Foltz.
"I thought he was very efficient," Grossner said of Brown. "I thought he did some little things I was looking for very well. He dropped the ball down and threw some deep timing routes on time. Those are little things that he needs to work on. I thought, for the first night and working with a mixed crew, he did a pretty good job.
"David Foltz, our younger quarterback, made a couple mistakes, but he made a couple big throws, too," he said. "It's better to make those mistakes now than in a game situation."
The rules for the 7-on-7 games are simple. Each team starts at the opposing 45-yard line and has 10 offensive plays. If a touchdown is scored, the team must attempt a two-point conversion. If all 10 plays aren't used, they start back at the 45 and play until the 10 plays are used. Each team has four series per game.
Baker will travel to Ottawa to play at 6 p.m. Sunday. Grossner knows the players are enjoying the chance to get out on the field and finetune their skills.
"They are training in the weight room and they're doing the running program," Grossner said. "It's a chance for them to play some football and work on their football skills."