BHS

players, coaches ready for volleyball season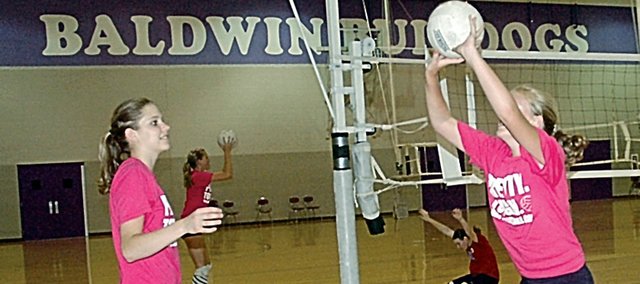 Five hours of volleyball camps per day for five straight days would be enough to wear any coach out, yet last week only left Kelly Brown wanting more time with her team.
For a whole week, the third-year Baldwin High School volleyball coach hosted two camps that took five hours of each day. She held the annual BHS team camp from 8 a.m. to 11 a.m. each day and a camp for grades fourth through eighth from noon to 2 p.m.
"The week went great," Brown said. "The younger kids camp was fun and the girls came with enthusiasm. They were ready to play volleyball. It's hard to get the high school girls to come do volleyball during the middle of summer, even though we're a month away from the season. They stuck it out and worked hard this week. By the end of the week, they were excited about volleyball again."
After all was said and done, Brown was a little worn out but she said the five days with her players only left her wanting more. She said the time spent teaching them and having fun has made her excited for the upcoming season that begins in around four weeks.
"I'm very excited for the season to start," Brown said. "Camp just doesn't quite give me enough of what I want. I am ready to break them up into teams and start working on offensive and defensive schemes. It does give us a chance to see the girls compete at a different level."
She isn't the only one ready for the season after the annual camp. Junior Katie Brecheisen can't wait to get out on the court and have success.
"I am ready for the season," Brecheisen said. "I think we'll be able to have fun this year and, hopefully, we'll win more."
While the weeklong camp excited the coach and players for the season, which begins in a month, its main goal was to improve some of the players' skills. Both camps focused on the fundamentals of the game.
Brown wanted all of the 80 or so campers to develop better skills, such as passing, serving and hitting. She even introduced some new drills at camp to keep the returning campers more interested.
"The girls worked hard all week," Brown said. "I am always trying to get new drills and give them new ideas. I am trying to learn new stuff, so that when they come to camp, they are getting something out of it."
Brecheisen said the BHS players worked on all facets of their game, but she even found time to improve her serving technique.
"We worked on everything," Brecheisen said. "It was passing, setting, hitting and serving. We did it all. I've been working on a jump serve, so I practiced that all week. I've kind of got that down pretty good now.
"I learned a lot of stuff this week," she said. "I've learned a lot from all of the camps I've been to this summer. It's been a lot of fun."
While skill improvement might have been the top priority of the camp, Brown changed the camp this year for the BHS players. Instead of working on conditioning, she wanted her players to have fun and enjoy the sport.
"We did something different than we have in the past," Brown said. "We made camp a fun week this year. It was fun volleyball and we didn't do any conditioning or running. We just did fun things with volleyball, so they could look forward to the season."
Her plan just might have worked, as Brecheisen enjoyed camp a lot more this time around.
"I had a lot of fun and it was a lot different from last year," Brecheisen said. "We did more fun stuff than conditioning. I just enjoyed it a lot more. This year we just did more drills that helped us get better at volleyball."
Of course, the BHS players weren't the only campers having fun. The younger ones enjoyed the camp just as much, if not more, according to Brown.
"Those girls are so energetic about volleyball," Brown said of the younger campers. "There is nothing negative in their lives, so they go 110 percent while here.
"We did have good numbers at the youth camp," she said. "We had a lot of seventh and eighth graders come out, plus quite a few elementary girls. As a whole, their volleyball skills have improved and it should be fun to watch them grow up and improve."
The BHS and Baldwin Junior High School seasons will be starting in mid-August. Many of the campers will be playing on one of those teams.
"The girls looked great," Brown said of the high schoolers. "The junior class is strong and has a lot of depth. We still have a lot of depth in our sophomore class, too. Our junior varsity team is going to be outstanding. I only have three seniors this year, but they are doing a great job of being leaders."