Alcohol issue on tap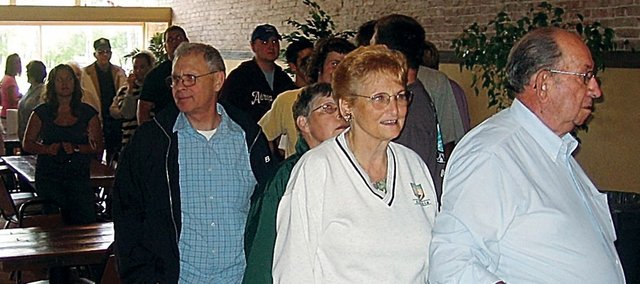 A public hearing tonight offers the chance for Baldwin City residents to weigh in with their opinions about liquor by the drink in downtown. But, apparently the longstanding Baker University "stipulation" isn't a factor.
When Baker was founded in 1858, land around the college was sold to provide funding. In the deeds to that property was the stipulation that alcohol couldn't be manufactured or sold or the land would revert to Baker. That has curtailed most alcohol activity in the 150 years since, but that's over.
"The 'Baker stipulation' is an important one," said City Administrator Jeff Dingman. "However, it is up to the individual property owner to work with Baker to get that stipulation released in a formal and legal fashion.
"One property owner - happens to be Ted Brecheisen Jr., who owns the building Hickory Creek Barbecue is in - has in fact done that and Baker specifically released his property from that stipulation," said Dingman. "I think Ted had to pay an amount to cover Baker's attorneys fees to get it done, but I didn't get the impression that Baker still had a philosophical objection to it. I don't know what that amount was that he had to pay."
Brecheisen is a city councilman. The Signal contacted Baker for a statement on the stipulation, but a statement was not available before deadline. It's believed to be the first time the university has released property from it.
"I'm not sure how many people - including planning commission and council members - know that this has, in fact, happened already," said Dingman. "I will explain it in that fashion to them. That might change some votes, but it might not.
"Even so, it is not the city's place to enforce what amounts to a private stipulation, even though it is in our best interest to make sure that prospective property and business owners know about it," he said.
The planning commission will have the hearing at 7 p.m. in the Baldwin City Public Library. What's being considered is a change in zoning in downtown that would allow the sale of alcohol. Currently, only cereal malt beverages can be sold.
Last week, the Baldwin City Council approved the change in zoning on first reading with a 4-0 vote. The council will vote on it again Monday after receiving the planning commission's recommendation following tonight's public hearing. Dingman explained the process.
"The first item under new business is the public hearing," said Dingman. "They'll open the hearing for public comment. After that, they'll close the public hearing and resume under new business and they'll need to have their own discussion and follow up with a motion to either recommend or not recommend approval by the city council on Monday.
"The council will have the second reading of the ordinance on Monday and the recommendation of the planning commission will be taken into account before the ordinance is voted on," he said.
Dingman said he'll also inform the commission and council how the rezoning falls within the city's new long-range plan.
"I plan on addressing this issue to the planning commission, framed around our comprehensive plan," he said. "One of the goals in the comprehensive plan was to make downtown as available to development as possible, specifically in regard to retail and restaurants.
"I think the full bar option could be something that makes a restaurant want to go into downtown or not," said Dingman. "At least it it's available, that in itself isn't the reason a restaurant wouldn't locate downtown."