New location for
BCRC

office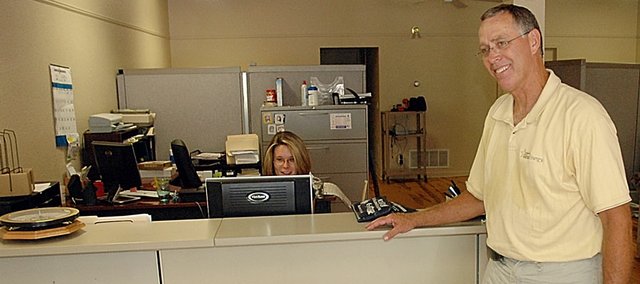 The Baldwin City Recreation Commission has seen some big changes this year.
In December, Steve Friend was hired to be the new director of the commission, taking the spot of longtime director Monte Ezell. And now the commission's office has moved to a new location.
The commission moved further east to 715 High St. The commission's old location was to the west of Eighth and High streets. The commission moved to its new location on Monday.
Friend said the new location would provide more space for the commission's activities.
"Space is the main reason we moved," Friend said. "We've got additional office space, storage space and a little more room to host classes and meetings."
Friend said the additional storage space will be used primarily to store seasonal sports equipment, which the former location didn't have enough space to house. Friend said that the commission had also talked about inaugurating a coffee and cookie day at the new location.
With more space, Friend said he hopes to create more classes for residents to enjoy through the commission. Friend said that most of these classes would probably be art classes.
While classes were held at different locations each week at the old location, Friend said he hoped the new location would allow for greater regularity in terms of where the classes were held.
"We've never had a place to have a class consistently," Friend said. "Maybe the new building will allow us to do that."
Friend also said the new location's size would give greater privacy to the commission's workers.
"If we had three or four people talking on phone in the old location, we wouldn't have much privacy," Friend said. "Now we can spread out a lot more."
In addition to having more space, Friend said the commission's new headquarters also has a better location. While the commission's previous location was at the fringe of Baldwin City's downtown, the new location is situated right in the middle.
"I love the location," Friend said. "It has great visibility. It's a great location for the recreation commission."
Before the recreation commission decided to move into it, the building had been Solomon's Antique Gallery. When the location became available for rent, Friend moved immediately to relocate there
"I saw the building become available over a month ago," Friend said. "I talked to the city, and they said go for it, so we've been working on it for a little more than a month now. We've been painting and cleaning up the place. We've got panels to divide the building into offices and we picked up other things to use."
Friend said the commission was also looking for a new sign and new logo to replace the old one.