Baker donation Packs punch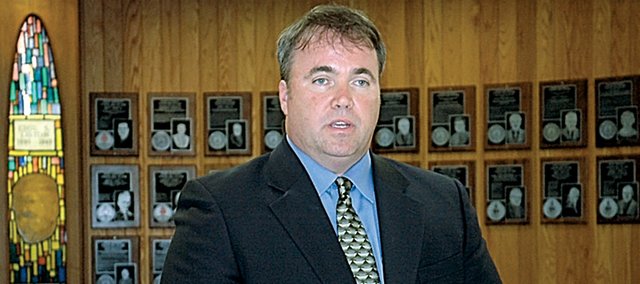 Mike McCarthy and Baker University are having a good year together.
In the fall, he was inducted into the university's athletic hall of fame. Now the Green Bay Packers head coach has donated a large sum of money to his alma mater.
"The thing that impresses me was after he had a great season and the Packers rewarded him with a big contract, he thought about his alma mater, Baker University," said Dan Harris, Baker University athletic director. "That's impressive. He felt like he gained something from his experiences here and he met lifelong friends here. His humble personality keeps him connected with this institution."
The Green Bay Packers and McCarthy have partnered to make a $100,000 donation to Baker University. That is for the first year, while four more years of donations are hopeful.
According to fifth-year Baker head coach Mike Grossner, McCarthy will donate $50,000 a year for the next five years and the Packers will match that total each year.
In other words, Baker football will receive a $500,000 windfall over the next five years.
"I'm very excited to make this donation to Baker University," said McCarthy, a 1987 Baker University graduate. "The university made a positive impact on me that continues today. It's a great learning environment, from the classroom to the athletic programs.
"Much of my success in my career I owe to what I learned and took from my experiences there," he said. "It's an honor to be able to give back to the school and support it in a very meaningful way. I also appreciate the Packers organization in joining me."
The donation to Baker University will aid the football program in a few ways. A portion of it will fund an endowment for a football scholarship in McCarthy's name. The scholarship specifically will go to an incoming junior college athlete, like McCarthy was, who demonstrates the potential to make a meaningful impact on the program.
Additionally, portions of the funds will go to current scholarship funding, as well as into a budget the athletic director can tap for enhancements to the football program, such as facility improvements.
"Mike's gift to our university will have a lasting impact," Harris said. "The endowment will grow and become a life-long scholarship in his name. I can't think of any better way to honor his success and his commitment to this university. He is such a special individual to me personally, and he has remained a humble and dedicated professional throughout his career. I wish him nothing but the best and we will honor his gift for years to come with a successful football program."
Besides being a Baker alumnus, McCarthy also has a connection with Baker's Grossner. The pair played football together at Scottsdale (Ariz.) Community College before both came to the state of Kansas to continue their careers.
McCarthy came to play for the Wildcats, while Grossner attended Bethany College in Lindsborg. The two have kept in touch and Grossner has even made several trips to Green Bay to visit his old teammate.
"Mike and I are good friends and we go way back," Grossner said. "I just happen to be head coach at his alma mater. About a year ago, he and I talked and he said that if got to a point that he could give back to Baker, he would do that and now he has.
"It's not a guaranteed $500,000, but as far as he and I are concerned, it is," he said. "It's really special how he was able to get this done. I've never heard of someone doing this, but it means a lot to me and this program."
McCarthy confirmed their longtime friendship.
"Of course I have a lot of respect for him," McCarthy said of Grossner. "We go way back as teammates at Scottsdale. I want to see him to succeed as a coach and I want his program to succeed, so this makes it more special that I can help his program."
Harris agreed that the connection was one reason for the donation.
"That's a very big part of it," Harris said. "They are good friends and Mike (Grossner) goes up there to spend some time with him during their training camp. It was a big part of making this happen."
McCarthy, entering his third season as head coach of the Packers, earned a degree in business administration from the school and was an all-conference tight end and senior captain in 1986, helping lead the Wildcats to an NAIA Division II national runner-up finish. He was inducted to the school's hall of fame Oct. 20, 2007.
McCarthy's coach at Baker, Charlie Richard, impacted his life in many ways. Richard was inducted in the College Football Hall of Fame several years ago, but his legacy lives on through McCarthy.
"I have to appreciate the chance that he gave me to play at Baker," McCarthy said. "I was always thankful to have the chance to play there. They were ranked No. 1 in the country before I came to Baker. You could ask any former player and they would all tell you that with Charlie Richard as your coach, you always felt like you had a chance to win. He would have a trick play or something up his sleeve that made you think you could win. He was a special guy."
McCarthy was named the Motorola NFL Coach of the Year in 2007 as his Packers team, the youngest in the NFL, went 13-3 and captured the NFC North Division championship and advanced to host the NFC Championship Game at Lambeau Field. In the process, he became the first Packers coach since Vince Lombardi to lead his team to a championship game in his second season.
"I enjoy the coaching profession and where it's led me today," said McCarthy. "This is the best job in all of professional sports. I get to walk into Lambeau Field every day and be a part of the greatness and tradition that is a part of this franchise. I am very blessed to be here and have this opportunity."