Local girl has tie with Dream Factory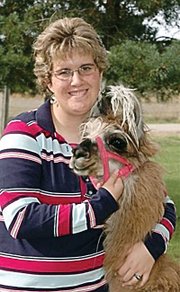 Since childhood, Jennifer Goff, a Baldwin City native, had dreamt of one thing: owning llamas.
"I just thought they were pretty neat animals and pretty sociable," Goff said.
However, it didn't seem like her dream would ever happen. Goff was born with a disorder know as dandywalker syndrome, which damages the organs responsible for regulating fluid in the brain, causing excess fluid to surround the brain. Throughout her childhood, Goff had to make numerous visits to the hospital to treat the syndrome. With bills from these visits piling up, the Goffs didn't have the money to buy and maintain llamas.
But this all changed with a single letter.
About five years ago, Goff sent a letter to the Dream Factory, a non-profit organization in Kansas City that grants dreams for minors living with chronic illnesses. In the letter, Goff wrote of her dream of owning llamas.
Soon, the organization had responded to Goff's request, not only giving her two llamas but building a barn for them as well.
"I was just really, really happy, and I just cried and cried," Goff said. "There are no words to explain it."
And now the Dream Factory is coming to Douglas County. The organization is in the process of opening a new branch in Lawrence.
Kenneth Phipps, a volunteer with the Dream Factory for the past eight months, has helped oversee the opening of the new location. At this point in the opening of the new branch, Phipps said increasing visibility for the organization was his chief priority.
"The biggest problem is getting people to know what the Dream Factory is and that we're here in Lawrence," Phipps said. "We've had 22 kids participate in the Dream Factory from Douglas County areas, so people are benefiting from the organization and nobody knows about it."
Phipps said that the organization is currently working to fulfill dreams for two children in Douglas County, both of them Lawrence residents. Dreams usually cost around $7,000 to grant. Nationally, the Dream Factory grants an average of one dream per day.
The Douglas County chapter has been receiving assistance from the chapter in Kansas City, which, seated in a larger area, has more resources at its disposal.
"They're helping us and doing a wonderful job of it," Phipps said.
The Dream Factory began in 1980 in Hopkinsville, Kentucky and has since granted more than 25,000 dreams for children with chronic or terminal illnesses, according to the organization's Web site. The organization has more than 5,000 people volunteering in chapters throughout the country.
"We need to get the word out," Phipps said. "The more exposure the better."
Those wishing to learn more about the Dream Factory can contact Phipps at (785) 840-0044.