Brown to compete for spot in Beijing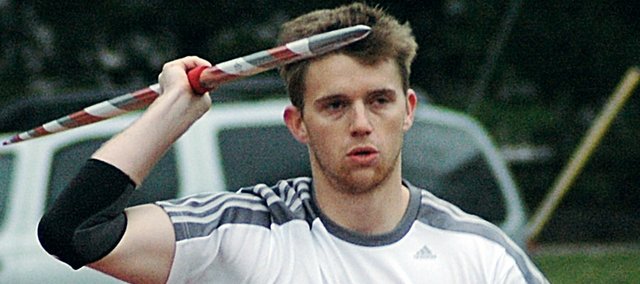 Eric Brown. The name that sends shivers down many opposing javelin throwers' bodies.
Brown, a NCAA All-American thrower at the University of Arkansas and Team USA member is a 2002 Baldwin High School graduate. He will be competing in the 2008 U.S. Track and Field Olympic Trials in Eugene, Ore., on Friday.
"I'm continuing my javelin career right now," Brown said. "This is my second year out of college and I am just trying to qualify for the Olympics in Beijing. I am guaranteed into the Olympic Trials already, so I just need to make that extra step."
These will the second Olympic Trials that Brown has competed in. He also competed at the Trials in 2004, while still a student at Arkansas.
Brown didn't come to University of Arkansas dominating the NCAA competitor field.
"I was a state champion at Baldwin, but with that distance I couldn't do much in college," he said. "I had a tough freshman year. I actually didn't improve my throwing distance but I learned a lot and gained a great deal of strength."
Things starting looking better his sophomore year at Arkansas and those talents gained during the summer propelled him through the rest of his collegiate career.
"For my sophomore year, I had a huge jump in distance. I finally took advantage of all I had learned," Brown said. "Over the next couple years I made small gains in distance to become the best thrower in the NCAA. I ended on a good note. I finished second and at the NCAA Championships my senior year, I should have won."
While Brown was at his peak during his sophomore year, he qualified to compete at the Olympic trials. Although he did not qualify for the Olympics, it was a great experience.
"The first Olympic Trials was an experience. I was the youngest thrower there and was just excited to get to throw," he said. "I didn't do particularly well, but it was just good to be there. It was an honor just to throw with everyone else."
Although Brown did not perform like he would have wanted to, he kept training hard and improving his throw. Two years after Brown left college, he competed at the World Championships in Osaka, Japan; halfway across the world.
"I did get to compete for the USA last summer at the IAAF World Championships. That was much like my first trials, an experience," Brown said. "That was my first major championship and one of my first times throwing on the other side of the world. Just getting to watch the best throwers in the world was amazing. I had an OK throw for last year but it still wasn't close to my best. At least I beat five people."
Although Brown has moved on to bigger and better things since Baldwin City, he still has a favorite memory from his high school days.
"My favorite high school moment was beating Jeff West in basketball my sophomore year the first round of state basketball," he said. "We were the number eight seed and they were number one. And winning state my junior year in javelin was pretty good, too."