Weege's three-pointer saves Bulldogs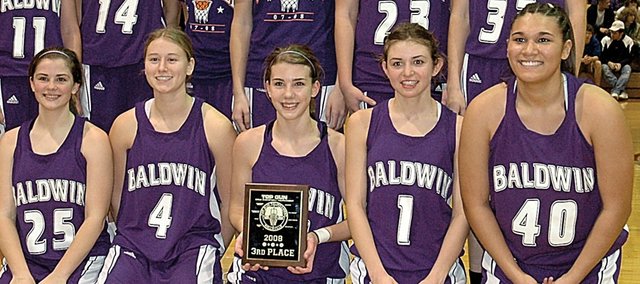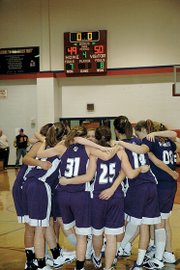 Wellsville — There wasn't a three-peat here this year.
However, there was an exciting finish to the third-place game of the Top Gun Tournament Saturday.
Tracie Weege hit a pair of three-pointers, one of which won the game, to score the final six points for the Baldwin High School girls' basketball team. The BHS junior helped the Bulldogs (7-5) defeat Kansas City Piper (8-4) 50-49 to place third in the 18th annual Top Gun Tournament.
"It was really great to win a game like that, because we've lost a couple like that," coach Bob Martin said. "It was really nice to win a close game at the end."
With 19 seconds remaining in the contest, BHS senior Colby Heckathorne found junior Weege wide open in the corner with a pass. Weege squared her feet and sank the long-range bomb. It gave BHS a 50-49 lead over Kansas City Piper.
"During the game, I came to a conclusion that if you start drifting toward the corner, you will be open all of the time," Weege said. "At the end, I did it and I was open, so I took the shot. I was so excited to see it go in. It got me pumped up even more to keep them scoreless."
The Pirates attempted two final shots, both of which missed as the Bulldogs won the game. Although Martin was proud of Weege for making the game-winning basket, he was even more proud of the team's defense after the basket.
"Everyone was excited," Martin said. "But the really good thing is we played really good defense during the last 18 seconds. We kept them from getting a really good look at the basket. If we hadn't done that, it would have been for nothing."
Weege also hit a three-pointer to help close the game a minute before her heroic shot. After Piper hit a three of its own to go up 48-44 with 2:23 remaining, Weege answered with a trey of her own to cut the lead back to one point.
Piper sank one of two free throws with 28 seconds left in the game, which allowed Weege's last shot to seal the game. After the game, the only thing on the Bulldogs' minds was her shot from the corner.
"It was really exciting," Heckathorne said. "Tracie's last-second shot was so exciting to see go in. As I was getting closer to the basket, they were drawing in on me, so it left Tracie wide open. She had a better shot and she knocked it down."
Weege herself wasn't even entirely confident that her shot was going to fall.
"I was about 50-50 on whether I would make it," Weege said. "I was 'please go in,' but if it didn't, we played a really good game anyway."
The Bulldogs had to fight from behind late in the game, despite leading early in the fourth quarter. They led 42-37 before Piper went on a 6-0 run during the next three minutes.
"We really fought back twice," Martin said. "We fought back at the beginning of the game when we got down 9-0. Then they took the lead late in the game, we had to fight back again. I was really happy we were able to do that."
It was the second time Baldwin had to battle back from a deficit in the contest. BHS fell behind 9-0, but did manage to score two points in the first quarter. The Bulldogs took their first lead with the opening basket of the second half, which was scored by junior Clare Miles.
Miles scored nine points Saturday. She went 3-for-4 from the free throw line to aid in the victory.
"I think Clare Miles had a great game tonight," Martin said. "She really came out aggressive and looking to do something with it. I was very pleased with her. That's what we need from her for the rest of the year."
Baldwin's leading scorers were Weege with 13 points and senior Heather Garcia with 10. They were both outscored by Piper junior Michelle Selbe, who scored a game-high 20 points.
"At the end of the game what we are trying to do is keep her from catching the ball," Martin said of Selbe. "She's a really good player. She got loose for some stuff, but good players are going to do that."
Heckathorne added that the Bulldogs tried to pressure the Piper guards to avoid letting them pass freely to Selbe.
"I think defensively, having pressure on the guards was our main goal, because they have really good inside players," Heckathorne said. "We were trying to create a lot more pressure out front to make it more difficult to get the ball inside."
Saint Marys won the Top Gun by defeating Spring Hill 55-42 Saturday night. St. Marys is still one of four schools to win the 18th annual tournament. Baldwin had won five of the last six years.
The Bulldogs will enjoy six days off between contests as they next head to Gardner to play at 6 p.m. Friday.
"We have a week off and time to get our legs back a little bit," Martin said. "This last part of the season is concentrating on the league race. We are still in the running for it if we take care of business."
Box Score
Baldwin - Heather Garcia, 10; Tracie Weege, 13; Alex Zordel, 5; Callie Craig, 2; Colby Heckathorne, 4; Clare Miles, 9; Ashley Tucker, 7.
KC Piper - Michelle Selbe, 20; JC Caroll, 15; Jena Hotujac, 2; Patrice Lasley, 13; Marissa Selbe, 2.
Scoring Summary
B - 2 16 20 12 - 50
P - 9 10 16 14 - 49