District eyes May election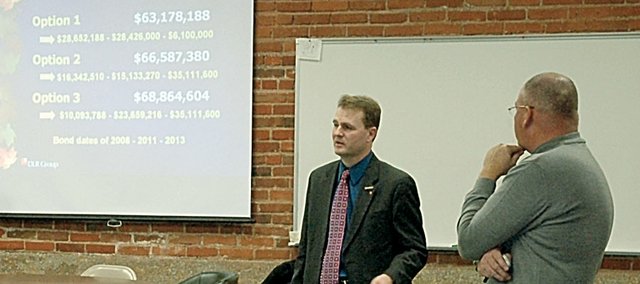 If a bond issue is to be voted on this year, the time to crunch numbers and make a decision is now, according to the pair of DLR architects aiding the Baldwin School District.
John Fuller, DLR architect, told the district facilities' committee that the school board must have a vote in May or wait until a year from now. He broke that news at the Jan. 23 meeting. He also had a suggested price tag - $28.6 million.
"I would say based on what I saw tonight, they are tentatively planning on doing something in May," Fuller said after the meeting. "If it's not May, then I'd say they are looking at something in 2009, based on what I heard."
Fuller went on to say that an election could normally take place in the fall, but the presidential election usually takes precedence over a school district bond issue.
"It's tough to have school bond issues and educate people during a presidential election," Fuller said. "It's also really tough to educate people during the summer, because school isn't in session and parents don't care about school in the summer. It's always better to keep your issues separate from a presidential election so that the patrons can make a wise decision."
The facilities' committee will have one more meeting to finalize its recommendation for the school board. That meeting will be at 6:30 p.m. Feb. 19.
Supt. Paul Dorathy said the committee will have to come to a consensus on its recommendation at the meeting if the district is going to hold a May election.
"I think the goal for our next meeting will be to come up with a final recommendation for the school board," Dorathy said. "It will have to be consensus, but that won't make everybody happy. We knew that from the start. I do think the long-range plan does meet all of the needs that everybody wanted."
Last week's facilities meeting was full of information regarding a bond issue and its possible cost. DLR Group architects, Fuller and Kevin Greischer, brought a long-range plan in for the committee members. They also gave the committee two other options to consider.
The first option that was presented included a new Baldwin Elementary School Primary Center for $11.52 million. That would also include the Parents as Teachers organization and the district's pre-kindergarten classes. It would be built for 480 students and would open in the fall of 2011.
There would also be several renovations done at Baldwin Junior High School that would cost $7.16 million. Those include a new roof, HVAC upgrade, gym accessibility, kitchen expansion, cafeteria expansion, corridor and auditorium renovations. Other repairs would be done to the locker rooms, library, band, choral and drama areas.
"These are projects that we have discussed and identified as priorities at our previous meetings," Greischer said. "These are all things that would be on a May bond issue."
Three other items would be included on that bond issue. Those would include technology ($1 million), baseball and softball fields ($1.8 million) and district track ($2 million).
"These dollars would pay for a competition track with a field in the middle of it," Greischer said. "The field would not be artificial. You could play day games there, but this is not a stadium."
The entire cost of the May bond issue would be $28,652,188. That was the estimated cost by the architects that included the soft costs for furniture, other building materials, price changes, etc.
Fuller said that the athletic facilities might have to be taken off this bond issue, because it's harder to pass those than it is to pass a vote for new buildings.
"A lot of parents can equate academic achievement with success," Fuller said. "Very few of them can say the academic piece is bad, but they can say they don't want to fund extracurricular activities. It's just harder to fund items that aren't directly in the classroom. A lot of people want to see their money go into the classrooms and not into building gyms or auditoriums."
Concerns were raised about the performing arts center and why a new facility wasn't being considered. Several members of the committee mentioned how a new auditorium was promised after the high school was built in 1993. Some of the concerns centered around the capacity.
"There aren't many high schools that have an auditorium that can fit their entire parent groups, even at Blue Valley or Olathe," Fuller said. "It's just rare to see that anymore."
Fuller and Greischer said they would bring an option with a new performing arts center at the next meeting.
The second part of the long-range plan would include a new BJHS for $22.6 million. That is set at a Nov. 2011 vote.
The third part of the plan would be renovations to the current BJHS to transform it to become part of BHS and other BHS renovations. Those would cost $6.1 million in 2013.
"I like the idea of a road map, because it helps give everyone an idea of what we are planning to do," committee member Toby Ebel said. "I just know that we haven't done that yet."
The architect's second option also had three parts. The first included a new BESPC, new roof at BJHS, technology and security. That would cost $16 million this year.
The second part would be more BJHS renovations, new baseball and softball fields, track and district operations center. That bond issue would cost $15 million.
The third and final bond issue for option two would include a new BJHS and BHS renovations for $35 million in 2013. The current bond issue for BHS would be paid off in 2013.
DLR's third option was very similar to the second, except the new BESPC would be pushed back to the 2011 bond issue.
Their first option would total $63.2 million, second option would be $66.5 million and the final one would cost $68.8 million.
Whichever option the committee decided to recommend, Fuller knows those members will have to educate the public before the vote or the bond issue won't have a chance to pass.
"Community support is everything," Fuller said. "We're wasting everyone's time to try and run something that gets beat for two reasons. One, it hurts the kids because they don't have the learning spaces they need. The second reason is because you can't run another bond issue very soon. It takes six months to plan again and you add on six months of inflation. The exact same bond issue, six months later, will be 4 percent higher. Then you have just wasted people's tax dollars."