Body Walk experience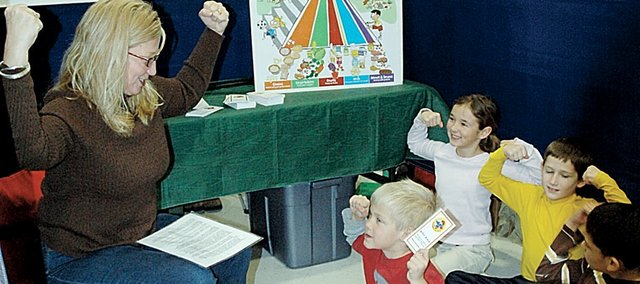 Local elementary students experienced an innovative new way to learn the importance of good nutrition and physical fitness last week.
Students from Marion Springs Elementary School and Vinland Elementary School came to Baldwin Elementary School Primary Center last Wednesday to take part in the Body Walk exhibit.
During their visit, the students explored the human body with Power Panther, the United States Department of Agriculture Food and Nutrition Service mascot, as their guide.
The tour began when the students walked through a giant ear and into the brain. There, they learned about "brain waves" and brain function. As they left the brain, each student was given a tag designating them as a particular food.
The students or "foods" stepped into the larger-than-life mouth where they were swallowed through the esophagus and into the stomach dome. From the stomach, the students traveled through the small intestine where they were "absorbed" into the blood. Then they followed the path of the nutrients to the heart, lung, bones, muscle and skin stations.
Students then left the body through a cut in the skin and proceeded through Power Panther's Pathway to Life. This final station recapped key health concepts from each of the 10 previous stations.
Throughout the exhibit, the students learned how to apply Power Panther's slogan "eat smart, play hard." At each of the stations, a parent volunteer engaged the students in a five-minute activity.
The traveling Body Walk exhibit was developed and is operated by Child Nutrition and Wellness, Kansas State Department of Education.
"Body Walk provides a unique and exciting opportunity for Kansas elementary students to learn about their bodies and the importance of making healthy choices," said Jodi Mackey, director of Child Nutrition and Wellness.