Cold here, but try on Green Bay for warmth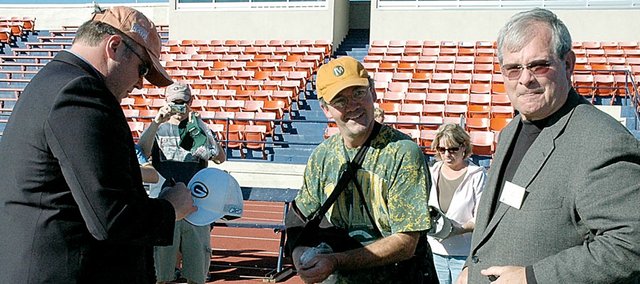 It must not have been cold enough here for Dan Harris, so he headed north for the winter : well for one day at least.
To fully experience winter, the Baker University athletic director left the single digit temperatures here and traveled to Green Bay, Wisc. While there, Harris and the four others in his group sat outside for several hours in negative temperatures with an even colder wind chill.
"That was very, very miserable cold," Harris said.
The Baker University party attended the National Football Conference's championship game at Lambeau Field. The game time temperature at 5:30 p.m. Sunday was -1 degree, with the wind chill at -25 degrees.
After returning to Baldwin City Tuesday, Harris joked about his multiple layers of clothes weren't enough for him to stay comfortable.
"I had three layers of clothes and it wasn't enough," Harris said. "I looked like the little guy on 'A Christmas Story' who couldn't move his arms or legs. In fact, it was hard to put my boots on with all of my clothes on. It was a challenge."
Sitting on aluminum bleachers that are covered in ice for almost four hours teaches one how to deal with the extreme cold. It's a lesson he wants others to learn.
"If you can keep your hands, head and feet warm, it's tolerable," Harris said. "My feet were fine, but my hands got cold and my face was really cold."
Like most people that prepare for extremely cold conditions, Harris and his travelers purchased winter gear. They chose to stop at Cabela's, an outdoor sporting goods store, to stock up on winter weather accessories.
Harris said he tried to find anything that would keep him warm in the negative degree weather.
"We got long johns, thermal gloves, jackets, hats, booties over the head, toe warmer, foot warmers and hand warmers to get ready for this," Harris said. "We got everything you can imagine to make this a tolerable event. Even with all of that, it was still cold."
People weren't the only thing affected by the extreme temperatures. Harris even joked about the food and drinks being susceptible to the weather.
"You go up there to order a Coke and give them your money, but by the time they come back with your change, your Coke was frozen solid," Harris said. "It was taking seconds for the drinks to freeze. In fact most of the concession stands shut down, because no one was going to buy anything. It was that cold."
The Baker group was lucky in that the press box was at their backs, which kept them from feeling the -25 degree wind chill.
Even though it was the second coldest game ever at Lambeau, Harris said the group was well aware of what the temperature was going to be. He said he almost didn't take the tickets that were given to him by Packer head coach Mike McCarthy, a Baker alum, because of the weather. Harris had to be coaxed by his oldest son Jay Harris.
"We knew it going in," Harris said. "Theresa (Yetmar) was being cute and challenging me not to be the sissy. I was willing to give up my ticket to someone else initially, but after all of the family threats from my son, I decided that I have to experience this and be there for Mike."
The other four travelers included J. Harris and his wife Kelly, Baker University Assistant Athletic Director Theresa Yetmar and Andy Soloman, former teammate of McCarthy.
Although the temperatures in Green Bay were nearly unbearable, that wasn't the only winter weather trouble for the group. The drive home lasted much longer than they thought it would when they left Monday morning.
"When we left the weather was fine, but the more we got into Illinois, it started to snow pretty heavily," Harris said. "There were snow plows on the highways, but when we got into Iowa it was sleeting.
"We saw tractor-trailers jackknifed all over and cars up in the snow banks," Harris said. "There were many parts of the highway where we were driving 15 to 20 miles per hour. The visibility was bad and the stuff was freezing on the windshield. We decided to stay over and head home in the morning."
Upon arriving in Baldwin City Tuesday, Harris felt like it was summer again.
"I never thought that I would think 20 degrees was hot," Harris said. "The closer we got to home, we could see the sun shining. I was ready to take my long johns off."
During the ride home through the winter weather, Harris asked his crew whether or not they would take this trip again if the opportunity arose. He said he learned his lesson about below-zero temperatures.
"I asked that question to everyone there on the way back," Harris said. "To the person, everyone said they would do it again, except me. I said I would love to go to a Packers' game, but not if it's going to be 25-below wind chill, no way."
It didn't help, either, that the Packers lost 23-20 in overtime. It was even longer to be out in the cold.