Cementing
BIT

history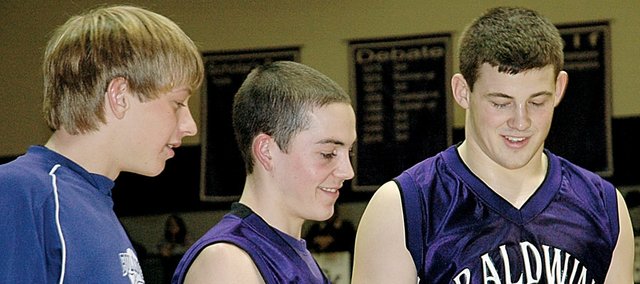 Photo Gallery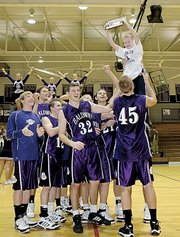 BHS boys win back-to-back BIT titles
The Baldwin High School boys' basketball team won its second straight home tournament championship with a 44-36 victory over Augusta Saturday.
History was made here Saturday night.
No Baldwin High School boys' basketball team had ever won consecutive Baldwin Invitational Tournament championships. That all changed Saturday.
This year's Bulldogs' team (9-1) captured the title by defeating Augusta 44-36.
"It feels great," senior Jesse Green said. "No other Baldwin team has done it, so it feels great to be the first one to do it."
This year's title game was nearly dejà vu from the 2007 BIT championship contest. A year ago, Baldwin defeated Augusta 62-56 to capture its tournament crown.
The thought of making history was in the Bulldogs' minds Saturday. It was a goal they wanted to achieve as a team.
"Coach has been stressing that no Baldwin team had ever won it twice in a row during the whole tournament," junior Clad Kueffer said. "That got us pumped up. It was one of the first goals we wanted to achieve.
"It's the greatest feeling of the season so far," Kueffer said. "This is our first championship, but we hope we have more down the road."
Baldwin finished the game strong as it held Augusta to only two points during the final minutes. The Orioles closed the BHS lead to 36-34 with 2:13 remaining, but only managed to score again with 14 seconds left in the game.
During that time, Baldwin sank eight free throws to secure the victory and Augusta turned the ball over twice. BHS seniors Drew Berg and Green each knocked down four foul shots apiece.
"I hadn't scored any points in the last couple of games, so I figured I might as well get them now," Green said.
Coach Eric Toot said Green stepped up for BHS Saturday and played one of his best games all season.
"Jesse was great tonight," Toot said. "Defensively, he did a great job on No. 55. At the end, he knocked down four straight free throws."
Kueffer agreed with his coach about Green's foul shooting down the stretch, but he also said he's always confident with Berg at the end of a close contest.
"Drew is awesome at the line," Kueffer said. "I love it when he is there. Jesse hit a few big free throws for us, too."
Berg led Baldwin with 14 points Saturday, while junior Brandon Tommer added 12.
Augusta's final basket wasn't enough as the Bulldogs just ran out the final seconds of the clock. The championship game was similar to last year's contest, but much more low scoring for both teams.
"It's a great feeling," Toot said. "That's why we play and that's why we coach. We want to have success and play for championships. Hopefully, we will win our share. I am so proud of our kids. They just accomplished something that has never been done in the history of our high school. It's not often you get the chance to do that, but they did it tonight.
"There are a lot of people that were disappointed in the teams that were here, but I thought there were some quality teams here," Toot said. "We still had to win three basketball games and that's what we did. Augusta was a very good basketball team."
Toot went on to credit the Bulldogs' opponent after the victory, but said his team's defense was the primary reason for the championship.
"They are a very good basketball team," Toot said of Augusta. "They are very well coached and they do so many good things. Defensively, we were just unbelievable tonight. Our kids have improved so much defensively over the last month. That's what is going to make us successful for the rest of the year."
The Bulldogs held Augusta to three points in the second half until the middle of the fourth quarter. Then Augusta sank a trio of three-pointers to rally.
"We held off a little run there," Toot said. "They threw in three shots there that I thought we played good defense on. We had our hand up and they just went in. We weathered the storm and we kept playing good defense."
Berg said the Bulldogs played well defensively during that stretch, agreeing with his coach about defense leading them to victory.
"If we didn't play defense as well as we did tonight, we wouldn't have won," Berg said. "Our offense was all right, but our defense played really well."
The Bulldogs' defense stifled the Orioles during the second and third quarters. The Bulldogs only allowed seven points during that time span, which consisted of three field goals.
Baldwin used that time to take a lead of its own. Baldwin took a 27-21 lead into the fourth quarter, despite trailing at halftime 18-17.
"They got on us early, but then we got on them later," Kueffer said. "I think we only allowed seven points in the second and third quarters combined. That helped us make a run and get ahead."
Baldwin began the game with two early baskets, but struggled to score after the first couple of minutes of the game. Meanwhile, Augusta built a nine-point lead after the first quarter. Toot said his team was playing well, but just couldn't sink any shots.
"Offensively, I thought we got some good shots, but we just didn't knock them down," Toot said. "We were playing a little passive. We weren't as aggressive as we could have been, but we were getting some good shots. Then finally we got on a little run where we rebounded and started getting layups. What really hurt us early is we didn't rebound so we couldn't get out and run."
Baldwin didn't have much time to savor the victory as it got back out on the road for a game at Osawatomie Tuesday. On Friday, BHS will play at 7:30 p.m. at De Soto. It will be the third Frontier League game of season for Baldwin.
"We don't have much time off or much time to rest, but this is the fun time of the year," Toot said.