Auditorium concerns
District teachers worried about aging facility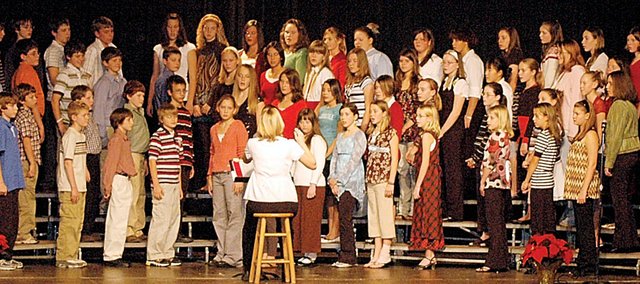 Michelle Kirk was the voice of several fine arts teachers at the Jan. 14 Baldwin Board of Education meeting.
Kirk spoke up during the public comment portion of the meeting. She wanted to inform the school board about present concerns with the district's auditorium.
The ongoing facilities' committee has addressed the auditorium as one of the problem areas in the district. Kirk is aware of the committee, but wanted the school board to be aware of problems that are happening now and need to be addressed.
"We have that one facility for the district and it's showing its age," Kirk said. "I know that many of you have been to concerts or plays at that facility. We have some concerns that we want to share about issues that create some liability for the district. We want to make sure the board is aware of these things."
During her six-minute speech, Kirk presented several problems with the facility. Those included equipment usage, security, scheduling and safety issues.
She discussed two other maintenance hazards that she said needs to be addressed soon. They both dealt with electricity and the safety of the students and others that use the facility.
"One major concern that I have is there are four lighting instruments still hanging that have asbestos pigtail cords," Kirk said. "Whenever I mention asbestos, there is usually some immediate response. Granted that the district employee is the one that changes lights. Still, anytime that cord is moved, you're dealing with a liability and safety issue. To retrofit that would be about $15. That's a fee that would be minimal and be best for the safety and welfare for everyone in that space.
"Duct tape and extension cords aren't safe," Kirk said. "There are a lot of things that are held together and used in that way. The fire marshal doesn't consider the hanging instruments of the theater lights as permanent fixtures and that's why we are probably able to get away with the extension cords. Some of those extension cords aren't built to hold the load of the voltage and wattage of those instruments. There are some fire issues that I am a bit concerned with."
Supt. Paul Dorathy said he has worked on addressing the teachers' concerns and the problems at the facility. Dorathy said he has formed a small committee, which includes the fine arts teachers, to look at what protocol is used for the auditorium. He has also talked to Cyndi Frick, district director of financial operations, about how to address some problems within the Capital Outlay budget.
"Some of these things I was aware of before the board meeting," Dorathy said. "We've been looking at ways to budget these things in the near future."
Kirk's first concern dealt with consistency from everyone using the facility that is located in Baldwin Junior High School. The music, band and theater teachers at Baldwin High School and BJHS would like to see the facility used in a manner that would make it last until renovations can be completed or a new auditorium can be constructed.
"One of the things that it would be nice to have is a consistent protocol for usage of the facility," Kirk said. "Anytime that you have every school and the community wanting to use a facility, the more wear and tear is done to that facility. It's going to cut the lifespan of that space. We want to make sure there is a protocol on who to contact and how that is done.
"Will Cooper, Elizabeth Smith, Juli O'Mealey-Hossain and myself are happy to be part of whatever planning or committee that it might take," Kirk said. "I know the administrators are wonderful anytime that someone wants to share the facility. The problem is there is not consistency there."
Then Kirk went into explaining about the usage of equipment and inventory. Some of those problems came from equipment that was promised, but hasn't been delivered since she started in the fall of 2006.
"There is also a problem as far as usage of equipment," Kirk said. "There is quite a lot of expensive equipment that we were told that is not there. We are talking about microphones, soundboards and lighting boards. There is an issue of inventory and keeping track of that better. Having somebody that is a paid district employee that would be at the site when someone else is using it would help with that also."
Along with the equipment problems, she continued right into maintenance issues that come up.
"Of course when you have people using light and sound equipment and something breaks, burns out or falls apart, there isn't clear communication about how that is handled as far as maintenance issues or who is responsible for paying for that," Kirk said. "There is a need for that. Having some kind of form, as well as word of mouth, would help with that."
Kirk's two final concerns about the district were security and scheduling. Currently the BJHS auditorium is the only one in the district; therefore it is being used by several classes and groups. It is also rented out to a local church on Sundays.
For that reason, Kirk said the fine arts teachers in BHS and BJHS are concerned with the security of the facility.
"Right now one key gets you into the auditorium and any storage space into the facility," Kirk said. "There have been some issues with things being taken and not returned. That creates a problem. So we might want to look at that as we rent that facility out to other organizations. Baldwin is such a wonderful community and we are very blessed to have people that want to work together and share the resources that we've got. With that comes responsibility and an issues with keys."
Since it's the only auditorium in the district, scheduling of events can also be a problem.
"Calendar scheduling gets to be a little bit tricky, too," Kirk said. "Everybody tries their best. When you have that space being used for classroom space by both the junior high and high school, as well as for any types of meetings, groups or assemblies, there have been problems as far as guaranteeing that our students don't suffer in being shuffled to the side while someone else uses that space."
Kirk wrapped up her comments by summarizing her main points and reiterating that she hopes these problems get addressed so the students can enjoy the facility in a safe manner.
"In the interim and whatever happens with the facilities' committee and looking ahead to the future, there are some immediate concerns that we need to look at," Kirk said. "I just wanted to point these out and see if you had any questions. There are a lot of concerns right now. I just want to make sure our students are safe and that we can all use that space together in a way that lasts for as long as we need it to in the time that we have."