Title chase overshadows record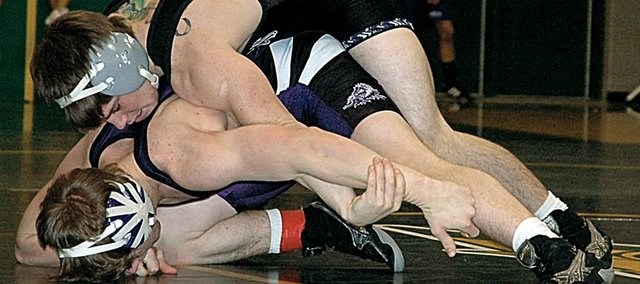 Personal records or championships?
Which mean more to an athlete? That's a debate that happens on every level of athletics, especially in the professional ranks.
Here in Baldwin City, that's a battle that Kevin Callahan has conquered in his own mind.
"Records along the way are great, but they aren't my main goal," said the Baldwin High School senior wrestler. "There is a lot more that I want, besides the records."
Although Callahan might dream of prouder accomplishments, he now has a record that his coach says he should be proud to hold. On Saturday, Callahan became the all-time leader in career wins at BHS.
He surpassed Kyle Flory, 2004 graduate of BHS, during this second match at the Bobcat Classic in Basehor. He now holds the record with 153 career wins as a Bulldog.
"I think it's a huge achievement," coach Kit Harris said. "The more I've thought about it, it's extremely impressive to win 40 some matches a year from your ninth grade to your senior year."
Callahan's career record is 153-18 and he is only 13 wins away from also breaking the Kansas state record of 166, held by Anthony Livengood of Blue Valley North.
Harris said Callahan could have around 20 more matches before the state tournament, so his chances of breaking the state record are high.
After his exciting weekend of winning his second straight tournament title at 130 pounds, Callahan acknowledged his record, but said he has loftier goals for himself.
"To tell you the truth, I really forgot about breaking the record," Callahan said. "I was just there to win the tournament. I don't worry about records. I let them take care of themselves. It's a great achievement and a great honor to be atop all of those great people on the board. There are only the last eight matches that really matter."
Those final matches Callahan is referring to would be the matches to qualify for the Class 4A state tournament and the matches to win state. His ultimate goal is to be a state champion, but that title has eluded him for three years.
Callahan placed fourth as a freshman and finished runner-up the past two years. He knows this is his final chance to bring home the gold, so the career wins record is taking a backseat to his state title dream.
"It would make my career," Callahan said. "That's all I've ever wanted and I still haven't got it. I have one more chance to do it. It would make everything worth all the while.
"It's my primary goal, but along the way I have a lot of little goals that I want to achieve before," Callahan said. "I have to be solid by the end of the year in every little aspect of wrestling to put together a state championship. I have to reach all of those little goals to get better in every little thing. Hopefully at the end, I am good enough with all of my stuff that I can pull it off and win the title."
Harris said that comparing a personal record and a state title can be hard to do, but he would give the edge to the record, because it takes longevity to achieve.
"That's every wrestler's drive, especially one at his level," Harris said of a state championship. "That's the way any athlete thinks. Ultimately, that's just a one-day achievement, as where the school or state record for wins is something you had to achieve over four years. They both have their own merits in their own way.
"You have to stay healthy and place high at tough meets," he said. "He is going to finish somewhere high this year at state and it will be amazing to look back at the things he's done in four years. It goes back to the work he did coming into high school, because he didn't come in as a typical freshman. He came in as a freshman ready to be successful as a wrestler."
Before Callahan attempts to achieve his ultimate goal, he said he must keep improving each day at practice. He said the last few weeks have been a good start, but he must continue working hard.
"As of now, I have improved from the first month of the season," Callahan said. "Before Christmas break, I wasn't anywhere nearly as good as I should have been. I wasn't wrestling well and I saw that. I worked on it over break and now I'm wrestling pretty well. I have some more stuff to work on still if I want to do what I want to do."
Callahan's younger brother, Alan Callahan (112 pounds), might have a chance to break the career wins record. As a junior he has a record of 109-10. Harris said next year could be fun to watch as A. Callahan chases his older brother's record.
"We looked at it and when it's all said and done, Alan could be right there," Harris said. "It will be interesting to see how that all plays out with the brother versus brother. It would be so fitting and perfect, because they are such a huge part of each other's success. They really push each other when training and during matches. They are a big part of each other's success."
The Bulldogs have two tournaments before the Frontier League tournament Feb. 9. Then they will participate in the regional tournament and state meet. K. Callahan will be helping the Bulldogs try to improve their best team finish of seventh place from a year ago.
"When I talked to him about the record, he said 'it's nice, but I want to help our team win a state trophy,'" Harris said of K. Callahan. "His thoughts are with the team. I really admire how much he thinks of others and not just himself."