Facilities' committee creates plan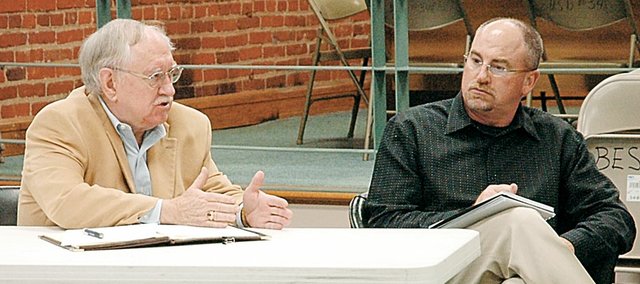 Kevin Greischer might have just kicked up an idea for a bond issue and long-range plan for the Baldwin School District.
After eight months of discussing and debating the options for the district, the facilities committee might have a proposal just around the corner.
"We've been working at this for quite a while and we've looked at a lot of things and even had some studies done," Supt. Paul Dorathy said. "We are getting to the point where it's time that we've got to make some decisions and say here's what it's going to be."
It was Greischer, one of the two DLR Group architects, which started the ball rolling at the Jan. 9 meeting. Nearly two hours into the meeting, when no ideas were thrown out, Greischer stepped up and made a suggestion.
His idea suggested a July ballot for a bond issue that would include a new Baldwin Elementary School Primary Center/early childhood center and renovations (new roof and heating and cooling system renovations) to Baldwin Junior High School.
That bond issue would cost around $17 million, most of that - $11 million - going to the new BESPC/early childhood center. That building would open in August 2010 near the Baldwin Elementary School Intermediate Center, most likely.
"I felt like the group was beginning to come to a consensus on what they felt were the most important needs and what might be on a bond issue," Dorathy said. "I think they gave the architects some good direction to go back with and now bring them back something to look at. Not everybody totally agreed with it, but at the same time I think everybody could feel something good coming out of it."
The rest of Greischer's plan included a bond issue in 2013 for a new BJHS to be located near the two in-town elementary schools. The bond would also call for renovations to the current BJHS auditorium. The current BJHS would become part of the Baldwin High School complex in 2016 when the new BJHS was completed.
The baseball and softball fields that were started nearly two years ago could still be constructed at the west end of town with the three schools, according to Dorathy.
"A few years ago the board did a long-range plan and in that plan they drew a rendering utilizing all of that ground to the west of us," Dorathy said. "There was the intermediate center with the ball fields and a community center to the south of the school. Up on the hill to the south would be a new primary center and to the west of the intermediate center would be a new middle school.
"It was all drawn in there and would all fit in that area out there together," Dorathy said. "There has at least been an idea about how that would all fit together out there. It could end up being a nice campus setting for all of those kids."
Dorathy thought Greischer's idea would cover the needs of the district at the current time on a large-scale basis.
"I think that the plan that was suggested is a good plan that could meet the needs of the district," Dorathy said. "Are there other specifics that really have to be talked about before you finalize anything? Oh, yeah. However, I do think it's a good direction. I also think it's more of something that might be what taxpayers might feel like they can afford to do. That is yet to be decided, of course. I think it will handle a lot of the needs."
The facilities committee will again meet Wednesday to further discuss Greischer's idea and other options. Greischer said he will be bringing a long-range plan attached with dollar figures to the meeting.
"Kevin will bring in a 10 to 15 year plan that shows what ought to be done when," Dorathy said. "I think he will take those things that the committee has pointed out as needs and place those in a 10-year plan, so that we have something to look at."