BHS

girls rebound with home victory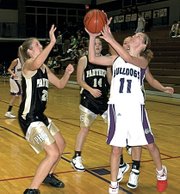 One week can sure make a difference when it comes to basketball.
A tough loss at Eudora on Jan. 4 would not be repeated Friday. The Baldwin High School girls' basketball team rebounded with a tough win over Paola, 64-55.
"I thought it was really important for us to come out and play well tonight," coach Bob Martin said. "We needed to bounce back and play well tonight. I told the girls that for about 80 percent of the game, we played well. We let a couple of things get away from us, but we played well tonight."
In their contest against the Cardinals, the Bulldogs started slowly. They only scored three points in the first quarter and lost 57-31. It was a different situation on Friday.
The Bulldogs began the game on a much-faster pace. They jumped out to a 6-0 lead, which turned into a 17-11 lead after the first quarter.
"It was nice to come out strong," senior Colby Heckathorne said. "I think the whole team really came out fired up and played strong. It was nice not to be down really far like our last game."
Heckathorne helped BHS with two early three-pointers en route to her 15 points in the contest. Senior Callie Craig and junior Tracie Weege each added a three before the quarter was finished.
Baldwin rolled with the offensive fireworks into the second quarter. Senior Ashley Tucker scored seven points as BHS increased its lead to 12 points. Baldwin led at halftime 30-24.
"We jumped out pretty good tonight," Martin said. "Our defense was really good in the first quarter and first half. Getting off to a good start was another thing we talked about before the game. In the games we have played poorly, it's because we buried ourselves early."
The Bulldogs never lost their lead during the second half, although the Panthers tied the game at 34-34. The Bulldogs responded with a 6-0 run during the following 90 seconds.
They maintained their lead as junior Clare Miles scored five of her 10 points to open the fourth quarter. Paola cut the Baldwin lead to three points with 1:46 remaining.
Then Heckathorne and Craig sealed the deal with six straight free throws to finish the game.
"We kind of expect that from those girls," Martin said. "They stepped up and made some free throws at the end."
The final foul shots gave Baldwin its 64-55 victory. Friday's win was the first Frontier League victory of the season for BHS. Heckathorne was excited to rebound from the loss at Eudora.
"It was good to get a win and get back to .500," Heckathorne said. "It's also nice to beat Paola, because we haven't beaten them in a long time.
"It was nice to bounce back," she said. "We have been practicing really hard and playing good in practice. We just hoped it would carry over."
Tucker and Heckathorne each scored 15 points to lead the Bulldogs Friday. Miles and Weege added 10 points apiece for BHS.
"We got really good play out of Clare and Ashley tonight," Martin said. "We really needed to get that kind of play out of them from the inside. I was really happy they responded. Ashley had her best game tonight and I know Clare had the best game of her career. We are happy to see that."
The Bulldogs play at Osawatomie Friday. The freshmen begin at 5 p.m. with the varsity being the final team to play at 8 p.m.
Next week the Bulldogs head to Wellsville to participate in the Top Gun Tournament. Before they play next week, Heckathorne said the team must keep improving.
"There is always more to improve on," Heckathorne said. "We need to continue working on our offense. Our defense is good, but we can always improve on something."