Bench players help Bulldogs cruise to first-round win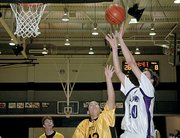 Without much effort and action from its starters, the Baldwin High School boys' basketball team won and advanced to the semifinals of its home tournament.
Every player on the Bulldogs' squad scored Tuesday night as they defeated Ottawa Christian Academy 77-21.
"I thought it was really fun," BHS junior Logan Schiller said. "The bench guys got a lot of minutes, which was a lot of fun. It was really nice to get a lot more playing time."
Tuesday's victory advanced the Bulldogs (6-1) to the second round of the Baldwin Invitational Tournament. They will face the Wellsville Eagles, a team they defeated 70-55 on Dec. 21.
"We have two days to get ready," BHS coach Eric Toot said. "I think it's going to be an exciting tournament from here on out. We've already played them once and playing someone a second time is always tougher."
Against Ottawa Christian, the Bulldogs jumped out to an early lead and never looked back. BHS took a 45-8 lead into halftime and continued to roll during the second half.
Four bench players started the game for BHS as Toot allowed his usual starters to rest most of the game.
Schiller was one of the Bulldogs who took advantage of the extra playing time. He enjoyed the additional minutes and time on the court.
"Everybody got points tonight," Schiller said. "John (Grosdidier, a sophomore) was the last one, so we tried to get him points at the end. He got a basket finally."
Another Bulldog who enjoyed the additional time was freshman Justin Vander Tuig. He led the Bulldogs in scoring with 14 points.
"We had everybody score, which I thought was very nice," Toot said. "I thought we were very unselfish. We didn't have kids just trying to get their stats. We made some great passes and we got the ball into the younger kids. It's exciting for them to get some varsity action and get their name into the scorebook."
Despite their limited minutes, senior Drew Berg and junior Brandon Tommer added 10 points apiece to the victory.
Toot said he wanted his players to give a full effort Tuesday, but show some class against a much-lesser opponent.
"Effort is never a problem," Toot said. "They (Ottawa Christian) were overmatched tonight. That's not a good situation for anybody to be in. It puts our kids in a bad situation, because they can't play like we want them to or it gets way out of hand. I thought our kids showed a lot of class in how they performed tonight, because it could have gotten a lot uglier than what it did."
Baldwin will play host to Wellsville at 7 p.m. Friday.
Box Score
Ottawa Christian - Shawn Deegan, 8; Jacob Oglesby, 7; Taylor Zimmerman, 3; Victor Hardin, 3.
Baldwin - Dustin Schiller, 2; Blake Randels, 3; Logan Schiller, 2; Sam Beecher, 8; Zach Durr, 6; Brandon Tommer, 10; John Grosdidier, 2; Camdon Schwartz, 8; Jesse Green, 4; Justin Vander Tuig, 14; Drew Berg, 10; Clad Kueffer, 8.
OCA 5 3 11 2 - 21
BHS 20 25 16 16 - 77