Stuffed animal students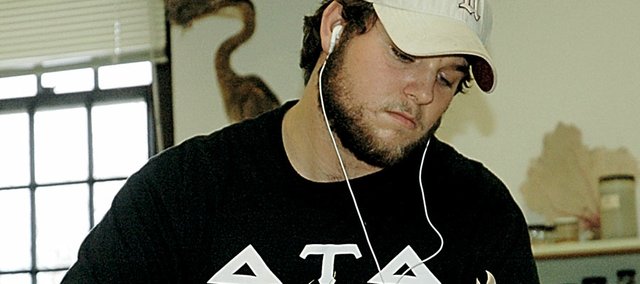 It's the art of preparing, stuffing and mounting the skins of animals and especially vertebrates, according to the Merriam-Webster dictionary.
Yes, that's right, taxidermy. No longer is it just a profession; it's now become a course at Baker University.
Roger Boyd, senior professor of biology, is teaching the course during Baker's interterm session this January. It's not the first time Boyd has taught the course to Baker students during the three-week period between semesters.
"I don't recall how many times, but I think I've taught it five or six times during interterm," Boyd said. "The last time I taught it was 1998 or 1999. I've taught a number of people during the semester for an independent study."
Baker junior Kyle Ruona, a 2005 graduate of Baldwin High School, heard rumors about the course being offered again this winter. He also knew that it wasn't the first time the class was an option for interterm.
"Before I came here, some alumni from about 10 years ago, had mentioned how Boyd had offered a taxidermy class, so I had heard about it then," Ruona said. "People mentioned that Boyd was trying to do the class again during my freshman and sophomore years."
Now the course has returned to Baker, with one noticeable change. Last time the course was offered, 24 students enrolled. This time, Boyd shrunk that maximum number of students to 15.
All 15 spots were filled in the beginning, but two students dropped the course before it started, leaving 13 to learn the art form of taxidermy.
"It drove me nuts," Boyd said of having 24 students in the class. "Even with 13, I can't get around to all of them as fast as I would like to, but it's much better than last time. I had some very frustrated people, because I couldn't get around to them quickly enough.
"What I've been doing differently this time is encourage them to work with each other," Boyd said. "I told them if someone has already done a particular technique, find out how to do it from them and pay attention to what they are doing. That has seemed to eliminate a lot of the questions."
Ruona agreed with his professor, saying the students talk about their problem with each other and try to learn as they go.
"We talk quite a bit," Ruona said. "All of us sort of go through the same types of troubles. We all vent at each other and laugh at each other. It's a lot of fun."
Boyd's new teaching technique has helped many of the students, but he still remains busy during class time.
"It can get pretty hairy at times," Boyd said. "Everybody wants me to help them all at once. I enjoy it when they do a good job and they have the satisfaction of being able to show this to other people."
Different strokes
Although the class has only been running for a week, the students are enjoying their time learning about taxidermy. One drawback for Ruona was the number of hours in the classroom each day, but he has learned to cope with it.
"I am enjoying it a lot," Ruona said. "At first, I thought I was going to hate it, because it's a 9 to 5 class. All I do is sit in here, listen to music and go along with my business. Time flies pretty fast, so it's not too bad. I don't have anything else to really do."
Freshman Whitney Preston is beginning to take a liking to her first interterm class.
"I enjoy the class because I'm learning new things all of the time," Preston said. "Even though it's frustrating and tedious at times, you feel accomplished when you see the finished product."
Preston and fellow freshman Tonia Karpowicz are the only two females in the taxidermy course. Preston said her options for an interterm class were limited, so the two friends decided to try taxidermy.
"It was a little strange for us to be the only girls at first, but we kind of expected it," Preston said. "It just isn't a class that would appeal to many girls.
"We've gotten some weird looks on peoples' faces when we they ask what interterm we're in and we tell them we're in taxidermy," Preston said. "We get all kinds of responses from people who think we're lying to looks of disgust."
Variety of species
Despite the short amount of days, Boyd requires his students to stuff and mount several species of animals before the class finishes Jan. 18. The species that his students will be working on include deer, bobcats, coyotes, raccoons, opossums, jackrabbits, eastern cottontails, pheasants, quail, ducks, Canada geese, minks and a fox.
Boyd said they would also stuff and mount three protected species that were donated through a game warden after they were killed. They are a great-horned owl, barred owl and a red-tailed hawk.
"Boyd had us plan out what we are going to do," Ruona said. "We had to have seven different specimens to mount. I will be doing a pheasant, three ducks, a bobcat, coyote and a mink. If I get around to it, I might do a hawk, which is illegal to shoot, but this was provided through a game warden."
The students started with a sparrow as their learning project last week. Once they successfully complete one species, they progress to another one the following day.
When asked about his favorite species to mount or look at, Boyd was quick with his answer. It was not only one of his favorites, but he also said it was one of the easiest to work with.
"Pheasants are probably the most colorful and they are probably the easiest to do," Boyd said. "They are like chickens in that they have very tough skin. They are easy to skin out and they don't usually have a lot of fat on them. They look really good when they are done."
Boyd said pheasant are much easier than ducks, because of the fat content of the fowl. Despite that, Ruona looks forward to completing his ducks.
"I think the ducks will be fun," Ruona said. "I think if I learn how to do those pretty well, I could do that in my spare time, because I go duck hunting a lot. I also think the mink would be kind of cool. It's something different."
Possible problems
Ducks might be troublesome for the students, but it is another species that has Boyd concerned for one of his pupils.
"One of those geese that one kid brought in is enormous," Boyd said. "He has no idea what he is in for. When he mounts it, it might stand about 3-and-a-half feet tall. That's huge. Getting all of the grease off of that will take him about two days. We'll see if he actually pursues that."
Boyd said that many of the other species are commonly used in taxidermy. However, he said one species wasn't common when he began teaching the course two decades ago.
"When I first started teaching this thing back in the early '80s, for someone to have a bobcat, that was pretty rare," Boyd said. "Now in this class, we have seven bobcats. I hear people talk about seeing them. They are apparently making a comeback with no problem. It's the same way with foxes."
Ruona is one of the students that will be working on a bobcat during the course. He will just be mounting the head, not the entire body for one of his friends.
"The bobcat is for a friend of mine," Ruona said. "A lot of these that I'm doing are for friends of mine. The bobcat is just a head mount; it's not the entire body."
Artistic new hobby
One species Boyd is happy not to see is the turkey. He said they are almost too large for a beginner to work on. Although the basics of taxidermy can be taught and learned in a matter of days, Boyd knows one aspect of taxidermy takes time to perfect.
"It really does take an artistic flair," Boyd said. "There are some people in the class that are discovering that either they don't have any artistic flair or they are just lazy. What they are doing so far is not very good quality. I think they had no clue what it took to do this. It looked easy so it should be. They have to figure out how to change this quickly, because interterm isn't very long."
Once the course is completed, Ruona said he might take taxidermy up as a hobby or even make some money from his new-found interest.
"I like to hunt a lot, so this has always interested me," Ruona said. "When I do hunt, it does provide me with animals. It's something different and something I could use to my benefit. I could use this type of trade for other people and make some money."