A hand at Habitat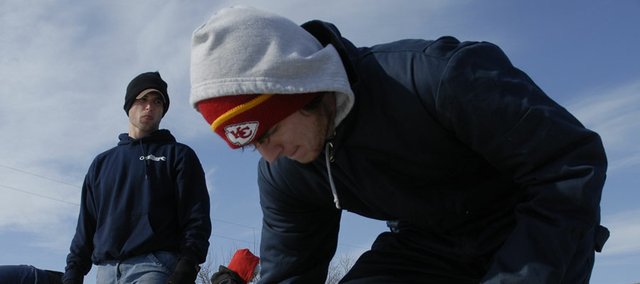 At 9 a.m. last Thursday, 16 students from Baker University showed up in North Lawrence ready to get working for Habitat for Humanity.
Unfortunately, the weather wasn't as prepared as the volunteers.
"We're waiting for the sun to come out and thaw some of the ice on the concrete pad," said the Rev. Ira DeSpain, minister to Baker University and the organizer of the project.
Dressed in layers of warm clothing, the students worked in 30-degree temperatures cutting lumber and nailing together the pieces they could.
"They're undeterred and not frustrated by the weather conditions. They get right in there," said construction coordinator Mark Brooks. "It's not all beer drinking and horsing around. There are a lot of truly committed people working and living in the universities."
During interterm at Baker, some students take classes, while others volunteer or hone their skills at internships.
These students will work in North Lawrence - alongside the home's future owners. For many of the students, this is not their first time volunteering for Habitat, and they hope to get more than a few credits out of the experience.
"It's such an accomplishment to know you've helped build that house. It's also fun to drive by when it's done and go, 'I built that.' It's awesome," said Alysia King, a Baker University sophomore.
The students haven't completely traded their notebooks for hammers just yet. DeSpain asks that they keep a journal about the experience and the people they meet.
"When I get the chance to engage students in community service and volunteerism, it gives them a sense of direction for the rest of their lives, because a lot of students will do that after they graduate and get involved in their communities," DeSpain said.
The students plan to work on the house through Jan. 17.