Community keeps Food Pantry full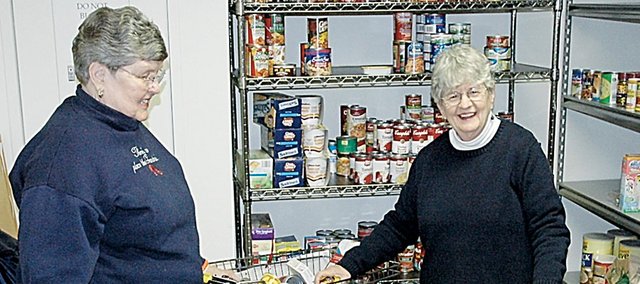 It's like a scene out of a Christmas movie.
Hundreds of boxes of food and canned goods are piled high on shelves in the basement of the First United Methodist Church. The Food Pantry is overstocked and the members of the church couldn't be happier.
"It's overflowing right now," said Stan Vickers, FUMC missions committee member. "During the holidays people give and they give with the spirit of giving in hard. Hopefully, it will continue growing all year round."
Ruth Dickinson, one of the church volunteers who helps run the Food Pantry, said the Baldwin City community has been very wonderful this holiday season.
"This year it has really taken off," Dickinson said. "It's just really taken off. We are so grateful. People have been so generous and we are very grateful. It's been so wonderful."
During the Christmas season this year, the Food Pantry has donated goods to around 30 families, a couple of senior living centers and two area towns.
Food items have been taken to homes and shelters in the Lawrence and Ottawa communities. Vickers said his delivery to Ottawa couldn't have come at a better time.
"We have also sent items to Lawrence and Ottawa," Vickers said. "When we called down to Ottawa to see if they needed anything, they were going out the door to go to the grocery store. So, they didn't have to go buy anything, because we had plenty to give. It's all about one town helping another town."
Last week, Vickers delivered food to the Hancuff Place at the south end of town and to Vintage Park Assisted Living Center.
He said his favorite delivery came a few weeks ago when the woman broke down in tears of happiness.
"I've had different reactions," Vickers said. "The best one I've had yet was when I knocked on the door and told the lady I have something from the food pantry for her. I went to my car to get the box out and when I brought it back to her, she was already in tears. She was full of joy and glad to receive the food."
The Food Pantry accepts donations from anyone. Some of the primary donors have been Boy Scout Troop 65, Baker University and the Baldwin School District.
Other donations come from the shopping cart at Baldwin City Market, the Worden United Methodist Church and the FUMC members, who donate the first Sunday of every month.
"A lot of the donations come from the schools and the grocery cart at Baldwin City Market," Vickers said. "It's really running very strong right now."
Dickinson said anyone can bring items into the Food Pantry if they wish. She said the community members have been generous this year.
"The community has been extremely giving," Dickinson said. "This is a new phenomenon. Prior to this year it was mostly just the church members and the scouts donating. Now it's becoming community-wide and that's what we've always wanted."
The Food Pantry is also open to anyone needing food items. Anyone needing food can either call 594-6612 and set up an appointment or stop by when it's open. The Food Pantry is open Tuesdays, Fridays and Saturdays from 9 a.m. to 11 a.m. The church is located at the corner of Eighth and Grove streets.
"If you're in need of something and want to take advantage of the pantry, then we welcome you to stop by," Vickers said. "It's open to the public. Families can make an appointment or stop by when we are open."
The Food Pantry is open all year round for anyone needing food or wanting to donate items.