State crown for Callahan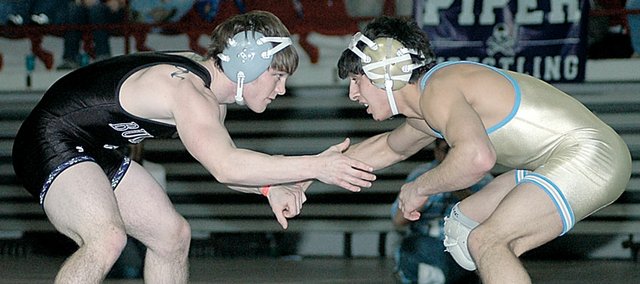 "Finally."
That one word summed up Kevin Callahan's career at Baldwin High School. The BHS senior screamed the word after his final high school wrestling match.
He didn't yell it because he was finished competing; instead because of what he had just accomplished. Just seconds before, Callahan won his first-ever state championship.
"He finally did it," said Kim Callahan, Kevin's mother. "Finally was the word to describe it. This is all he's ever wanted."
Moments after the final buzzer sounded, the Baldwin section of Salina's Bicentennial Center erupted with applause. Callahan quickly shook his opponent's hand and then let the official hold his arm high for several seconds.
He took in the surreal moment for as long as he could. Then came the exclamation: "finally."
"That pretty much sums it up," Callahan said. "This is all I have ever wanted."
Even Callahan's coach, Kit Harris, joined the celebration. After Callahan went to hug his coach, Harris ducked and proceeded to lift his senior wrestler into the air. It was a moment Harris will remember for a long time.
"It's exciting as a coach," Harris said. "The kids are the ones out there working in the circle. He's the one who has logged the hours. To be a part of that as a coach is exciting. Kevin said so many appreciative comments to me after the match. That was very meaningful to me."
Of course, the moment couldn't be lost on Callahan's younger brother and training partner, BHS junior Alan Callahan. He was one of the dozens of Bulldog fans screaming and cheering during the entire six-minute match.
Even after his older brother won, Alan Callahan couldn't have been happier to witness the moment.
"I am really happy for him," Alan said. "It was a great match. He wrestled awesome. To be a part of it is enough to make me happy."
The Callahan brothers always watch each other's matches with the intensity that they are out there competing. Alan's state tournament ended a little earlier than he had hoped, but for once Callahan said he didn't use that as motivation to wrestle harder. He was focused on his goal during the entire weekend.
"This weekend was the only weekend where I was just focused on what I had to do," Callahan said. "I feel bad about what happened to Al and I wish he could have done better. I know he could have. That's what happens sometimes, though."
Four-year dream
Many athletes set goals for themselves during a season, while many others have dreams they try to achieve. For Callahan, becoming a state champion was a dream of his for years.
Ever since stepping foot on a wrestling mat as a youth, Callahan had the dream of one day becoming a high school state champion. That idea remained a dream until Saturday night in Salina.
"It's always been my goal," Callahan said. "I guess I just wanted it a little more this year, because I knew it was my last year."
That dream has been eating at him during his entire time at BHS. As a freshman, Callahan placed fourth at state. He has finished runner-up in his weight class during the past two seasons.
Once his senior campaign began, all Callahan had on his mind for four months has been winning the state title. Harris was a witness to Callahan's determination and dedication during his four years for that one elusive honor.
"That kid has worked very hard for this," Harris said. "This meant a lot to him. Of all the things he's accomplished and of all the ways he's left his mark, this is by far the most important. For him, I am extremely thrilled."
Of course, state medals aren't the only sign of Callahan's success as a Bulldog. There are also the four state records. One of those is career wins, which he set this year with 171. He broke the state record two weeks ago, but he still had his mind on one prize.
"It's been a nice four years." Callahan said. "You know the records are great, but this (state title) is all I ever wanted."
His trio of other state records includes most career team points (1,034), most career technical falls (43) and most career nearfalls-2 (157). Callahan also holds several BHS records. Those are most technical falls in a season (15), most team points in a season (282), most nearfalls-2 in a season (46), most nearfalls-3 in a season (57), most total nearfalls (100) and most match points (452).
Callahan was also the first-ever BHS wrestler to place at state all four years. He became the fourth state champion from BHS. The other three were Jay Harris (1987), Witt Hinton (2002) and Kyle Flory (2003).
"I don't know that I could do it," Kim Callahan said. "He's just awesome. He works as hard as anyone I know."
Confidence runs high
During his final state tournament, Callahan never wavered or faltered because of added pressure to win his first-ever state championship. He advanced to the finals in the 130-pound weight class on Friday night, but had to wait until around 7 p.m. Saturday to wrestle his last high school match.
Despite the long wait and time to think, Callahan never showed any signs of being nervous before the finals match, according to Harris.
"Amazingly before this moment, he had his emotions and anxiety under control," Harris said. "He had a good game plan and focus."
Callahan agreed, saying his confidence was high on Saturday.
"I didn't doubt for one second that I could win," Callahan said. "I was just relaxed and tried to stay that way for as long as I could. I got out there and just wrestled."
In the finals match, each wrestler scored escape points, but Callahan's second-period takedown was the difference as he won by a 3-2 margin for the gold. During the final period, Callahan blocked several shots by Chanute's Cameron Jesseph.
With just under one minute, the match was stopped as Jesseph began to bleed. Callahan jogged over to talk to Harris and quickly told his coach how confident he was about winning the match.
"With 53 seconds left, he came over for a break when the other kid had blood time, he said 'I am going to do this,'" Harris said. "'I am going to do this. I am going to get a takedown. I am going to win this.' He was so confident and ready. When you work as hard as he has for so long and that moment finally comes, you have to be ready for it and he was."
Jesseph tried several attacks during the final 53 seconds, but Callahan blocked them all and held his opponent scoreless. It was enough to win the match by a 3-2 decision.
"It was a pretty tight match," Callahan said. "I felt pretty confident on my feet that he couldn't take me down for some reason. I just kept wrestling. I didn't even think about the score or anything. I just wrestled until the buzzer. That's all I thought about."
Harris said he had hoped Callahan would be able to score an escape point, which he did, because he has struggled with that against Paola's Matt Noblet during recent matches. Noblet lost to Jesseph during the semifinals Friday night.
Once Callahan took Jesseph down, Harris wanted him to score more points on top, but a slight injury to his senior wrestler prevented that from happening.
"He hurt his knee in the first period and I could tell something was wrong," Harris said. "That's just the way Kevin is. If he gets injured, he won't let it faze him, because he's so focused and driven. He said he would have been more offensive on his feet, but his knee bothered him."
Harris said Callahan couldn't have finished his career any better than how he did it Saturday.
"There is absolutely no better way to go out than this," Harris said. "Every time he would break a record or win something along the way, he kept saying he wanted to win the state title. That's all he talked about."
After his final match and winning the championship, Callahan found himself at a loss for words. His moment had finally come and he was humbled by his own actions.
"There aren't any words to describe how I feel right now," Callahan said after the title match. "It's almost like I don't feel anything. I'm just happy, because all of the pressure is gone.
"I am happy," Callahan said. "I maybe could have done better at certain times, but I am happy."