Snow fight will continue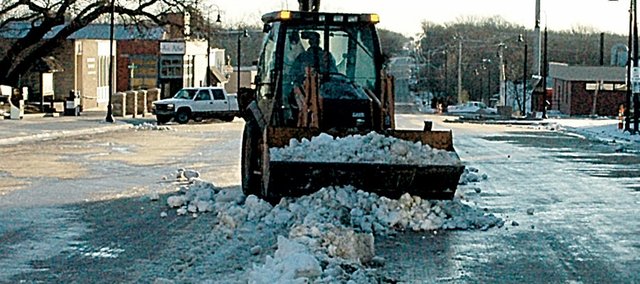 It's safe to say that most everyone is sick of winter.
Probably at the top of the list are the people who have to clear streets and roads. It's been one long winter for them, but at least Baldwin City crews have been able to utilize scheduling to lessen the load and they've still got supplies of a salt/sand mix to keep the fight up.
"We have enough right now to last for probably two storms," said City Administrator Jeff Dingman of the mixture that comes from Douglas County's supplies. "Since the county is starting to run low, they have said we can get up to four dump truck loads per storm, but they have not cut us off yet due to any shortage.
"If we had a storm and needed to use what we have on hand, we could get up to four truck loads to replenish what we used in order to have it on hand for the next storm," said Dingman.
Although there have been more "snow events" this year - around 30 - than in the past, they haven't been quite as bad and have been at times that allowed the city crews to handle it and not rack up too much overtime, he said.
"That's hard to say," Dingman said about what the snow/ice/sleet has cost the city. "My best indicator is the overtime expense line item in the street department budget. To date, we've spent about $1,100 in overtime actually paid out compared to about $1,500 at this time last year.
"That isn't always a true indicator, as Bill (Winegar, public works director) has tried this year to schedule the guys during the early morning hours and let them off early so as not to incur overtime pay," he said. "I don't know how much of that he's done, but from my perspective it's keeping overtime costs down."
While the snow and ice has been more frequent this year, there hasn't been a major ice storm that caused massive problems as in the past : yet.
"If I remember, we had some ice last year that required a lot of overtime for cleanup of broken limbs from streets and such," said Dingman. "We haven't had that this year. It's mostly been snow events that we can see coming and schedule accordingly for running the sand/salt trucks and the plows."