BHS

wrestlers place 10th at state meet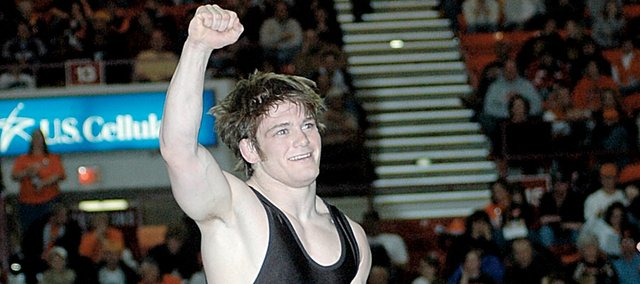 Salina — Expectations were high coming into the Class 4A state tournament here, but as the weekend progressed they were dimmed for the Baldwin High School wrestling team.
The Bulldogs battled the state's best competition and left the Bicentennial Center with some positive and some negative results. Three Bulldogs medaled as BHS placed 10th as a team.
"I can't really complain overall," coach Kit Harris said. "The kids wrestled hard and I'm really proud of all of them."
Clay Center won the team title for a second straight year. This year the Tigers scored 151 points as they ran away with the championship. Andale finished runner-up with 116.5 and Colby took third with 112 points.
Baldwin scored 50 points to finish in 10th place. The fifth place team, Abilene, was only 10 points above the Bulldogs. Harris was pleased to finish 10th, despite a goal of placing higher than seventh, which is the best place a BHS team has taken at the state tournament.
"We wanted to finish higher, but we didn't have a lot of guys that were able to place high with," Harris said. "We couldn't afford any slip ups at all, which is hard to do. If you ask any coach here how their tournament went, they would say there were a lot of ups and downs. We just need to try to get more guys placing in the future."
The highlight of the weekend for Baldwin fans was senior Kevin Callahan capturing the 130-pound championship. It was his first-ever state title, but he did become the first-ever BHS wrestler to place at state all four years. He has also finished fourth and second twice.
Callahan beat Chanute's Cameron Jesseph 3-2 in the finals to win the title. He went 4-0 during the weekend en route to his gold medal.
"There were a lot of ups and downs in the tournament for us," Harris said. "Ending with Kevin winning the title is definitely a great way to end the season feeling good. He has been a cornerstone for our program for so many years. That just made everybody happy."
Callahan wasn't the only highlight for Baldwin, though. Seniors Gabe Mason and Nick Rockhold also brought home state medals. Mason placed fifth in the 171-pound weight class, while Rockhold finished sixth in the 119-pound bracket.
"It was pretty exciting," Mason said. "I'm glad I had the opportunity to make it this far. I'm glad I didn't get injured this year. I just went out and wrestled and had fun."
Rockhold was also happy to earn a state medal at his final high school tournament.
"It was a hard bracket," Rockhold said. "It's just an accomplishment to place in this bracket. Out of all the years I've wrestled, 4A is by far the hardest it's been. Every bracket has been deep. It feels good to place this year. It's quite an accomplishment."
Mason went 4-2 at the state tournament. It was his first since his sophomore year because of a knee injury last season. He pinned two opponents and won his final match by a 6-2 decision.
"Being my last high school match, I just went out wrestled and had fun," Mason said. "It was a lot of fun. I had some losses that I probably could have won, but things happen. You just have to wrestle regardless of the situation. That's what I did and I came through the back side and got fifth."
Harris was proud of Mason for winning matches in the consolation bracket en route to his fifth-place finish.
"For Gabe to be a senior and to come back from missing a season with a knee injury and get a medal was great to see," Harris said. "His bracket was tough."
Rockhold won his first two matches of the tournament before falling in the semifinals. He finished 2-3 on the weekend but placed sixth overall.
"I'm proud of Nick for placing in the 119 bracket," Harris said. "That was a tough bracket. A defending champion beat Nick for fifth. Everybody on that award stand was a returning placer, except for the freshman placer."
Rockhold's final defeat came at the hands of Paola's Sharky Slyter, the defending 103-pound state champion. Rockhold said he and Slyter talked during the past two tournaments about how they could end up facing each other in the state finals. Instead they battled for fifth place, which surprised Rockhold.
"At league we talked and we thought it might be he and I in the finals," Rockhold said. "Nothing has turned out like we thought at state or regionals. There was no dominant kid in our bracket. If you put us all together to wrestle again, the outcome would be different every time."
Baldwin's three other state qualifiers were junior Alan Callahan (112), senior Michael Barnes (215) and senior Jacob Enick (285). A. Callahan went 2-2, finishing his tournament in the consolation quarterfinals. He was one win from placing in the top six.
"Alan's bracket was tough and he lost a tough match, which put him in a tough spot in the back side bracket," Harris said. "He struggled lately to see his shot, which is a bad time of the year to go into a little funk. But he will be back next year."
Barnes and Enick each went 0-2 on the weekend. It was their first trip to the state tournament. Harris was happy with the effort all of his wrestlers gave over the weekend, especially considering the level of competition that was there this year.
"A lot of coaches have been talking about how deep the 4A tournament is this year," Harris said. "This year is deeper than any other year. There were about 10 or 12 kids per bracket that could have placed."
Saturday was the final day of high school wrestling for the five seniors. Mason said after his match that the reality of it all had begun to settle in and he would miss his teammates.
"I am sad, but happy," Mason said. "Being with all of these guys for four years has been fun. I'm sad to see our year go by so quickly. I'm glad I ended it on a happy note with a win."