Baker names new Dean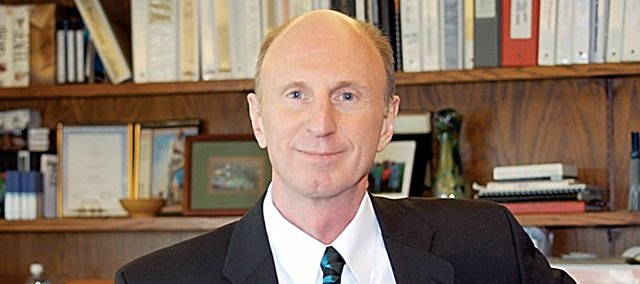 Baker University has named Marvin L. Hunt as Vice President and Dean of the School of Professional and Graduate Studies, Baker Provost Randy Pembrook announced on Friday.
Hunt is the assistant dean of Continuing Education at the University of Kansas. He also is director of the Academic and Professional Programs and director of Continuing Professional Education at KU and holds a faculty appointment in the KU Gerontology Center.
"President Pat Long and I are so pleased that Dr. Hunt will be joining Baker University," Pembrook said. "His entrepreneurial experience, academic background and communication skills will enable him to provide strong leadership in the future for the School of Professional and Graduate Studies and the university as a whole."
The School of Professional and Graduate Studies offers bachelors, masters, a doctoral and non-degree programs to nearly 3,000 working adults throughout Kansas and Missouri.
"I look forward to facilitating growth in such a vibrant climate of educational innovation and entrepreneurship," said Hunt, who will assume his new role on May 1. "I am excited because education changes people's lives, and Baker is helping to fulfill a great need for excellent business, management and liberal arts education in Kansas City, Lee's Summit, Wichita and Topeka. I am also very excited to join Baker's outstanding arts and sciences tradition."
Hunt replaces Don Clardy, who led the School of Professional and Graduate Studies to prominence in his role as dean for 17 years. For the past year, Steve Cohen stepped in to serve as interim dean of the school.
At KU, Hunt directs a staff that manages continuing education programs in aerospace engineering, civil and mechanical engineering, law, sociology, public administration and many other areas. He recently was responsible for $4.5 million in contracts to offer short courses in the United States and internationally. Hunt also is a co-principle investigator for the Department of Labor's WIRED initiative focusing on bioscience education in the Kansas City region.
In 2004 Hunt created the KU Osher Lifelong Learning Institute which offers courses to 600 people ages 50 and older in Topeka, Lawrence and Kansas City. He has attracted grants ranging from $75,000 through $1 million in endowment for projects in biosciences, communication disorders and adult learning.
Hunt has undergraduate and master's degrees from the University of Kansas in communication studies, and a doctorate in educational studies from the University of Nebraska-Lincoln.
Baker University, founded in 1858 is the first University in Kansas. It enrolls 4,000 students in four schools - the School of Professional and Graduate Studies, College of Arts and Sciences, School of Education, and School of Nursing.