Auditorium identified as pressing need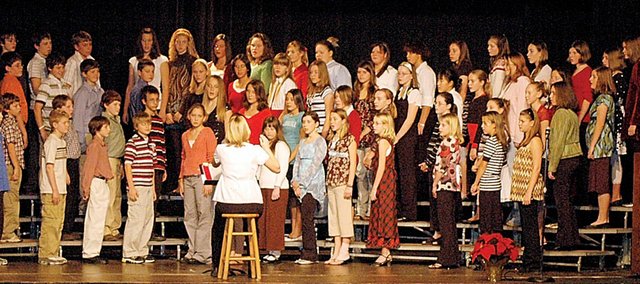 Before a decision could be reached on whether or not a new auditorium was necessary for the Baldwin School District, questions had to be answered.
On Feb. 19, the district's facilities' committee had its final meeting to decide on a recommendation to the Baldwin School Board on what should be included in a bond issue. During that meeting, the primary subject of discussion was the auditorium.
Several committee members, including School Board Member Ande Parks, wanted to hear why a new auditorium was needed. He wanted to hear why the district should spend nearly $3 million to build a new facility, instead of renovating the current one.
"Why do we need a new auditorium?" Parks asked. "Are we just paying $3 million for an extra 200 seats? I just want to hear why we need a new auditorium. I'm not against it, but I want to do what's best for the money we spend."
Parks' question was directed at Will Cooper, district band teacher, and Michelle Kirk, Baldwin High School English and performing arts teacher. Cooper answered the question for Parks.
"I'm not sure it's a seating issue at all," Cooper said. "The stage just isn't usable. It's not big enough at all. We would have to extend the stage to fit our groups on there now."
The discussion of the size of the stage was just the beginning of the auditorium talk at last week's meeting. The committee went on address other issues, including safety, whether an auditorium is something to place on a bond issue and what will happen to the current one if a new facility is built.
The auditorium's safety issues were presented to the school board by Kirk at the January meeting. She addressed several electrical problems, especially with the lights and cords.
At the facilities' meeting, Parks asked Cooper if the current auditorium can be used and Cooper replied with a direct answer.
"Yes, it's usable," Cooper said. "But, is it right for our kids to be using that facility? No, I don't think it is."
Kevin Greischer, one of the DLR Group architects aiding the district with the bond issue, also said the stage area isn't safe.
"The stage area is fairly dangerous," Greischer said. "I think a lot of problems revolve around the stage lighting."
After the meeting, Cooper further addressed the problems with the current auditorium.
"The problem is the workability of the stage area," Cooper said. "It's not big enough. During a concert, I have kids at the very edge of the stage and we have the jazz band in the pit. That's not right to them. The lighting is terrible and it's not a good place to hear things. It's also got 30-year old chairs that are falling apart."
After hashing through the problems with the auditorium, several committee members asked the architects whether or not an auditorium can help pass a bond issue. Both architects gave answers that were similar.
"An auditorium can be a lightning rod like a football stadium," Kevin Greischer said. "It can be a divisor of a community. It just depends on the community, but it can be a lightning rod."
John Fuller, the other DLR architect, agreed with Greischer but said the district patrons can be educated about why a new facility is necessary.
"A performing arts center can help you pass a bond issue if the community is behind it," Fuller said. "Kevin is right and it can be a lightning rod. But you will have to educate people that it's not a seating issue. There are more issues than seating involved here and you will have to educate them on those."
The final piece of discussion last week centered on what to do with the current auditorium if a new facility is constructed. The architect's plans called for a new auditorium to be built on the northwest side of Baldwin Junior High School. It would connect to that corner of BJHS, near the cafeteria, but it would block the road that separates BJHS and Baldwin High School.
Future plans, when a new BJHS is built, call for the current BHS and BJHS to be connected. The west part of that road would become a bus loop and the east part would become part of the parking lot.
However, it was the auditorium that had committee members concerned.
"So we will still have the old, decrepit auditorium with a brand new one next to it?" Parks asked.
Both architects said that would be the case, but the current facility could be renovated at a later date to fit other district needs.
"You would have a very nice auditorium," Fuller said. "It would not be a Taj Mahal, by any stretch of the imagination, but it would be an auditorium that you would be proud of."
After the idea about renovating the current facility came about, BJHS Principal Connie Wright was quick to put her two cents in.
"If that space ever becomes available, Mr. (Shaun) Moseman (BHS principal) and I are fighting about what we might use it for," Wright said. "I would have no problem telling you what we might use that space for. We use it for all sorts of stuff now and we would love to have that space if it became available."
At the end of the meeting, the committee finalized its recommendation that will go to the school board. Its recommendation is a $22.5 million bond issue that includes a 600-seat auditorium.
After the meeting, Parks said his questions about the auditorium were answered.
"I asked questions tonight partially for myself and partially because I felt like it wasn't an issue we had really hashed out in the group here," Parks said. "Since we had a couple professionals here who use the facility everyday, I wanted everyone to hear why renovation is not best for our kids right now. I think they explained that pretty well."
The school board will next meet at 7 p.m. March 10 at the District Office. A special meeting scheduled for Monday to discuss the bond issue was canceled because the architects had schedule conflicts. It also helped that the decision had been made for a bond issue election in November instead of May. That eliminated the time factor forcing the special meeting.