Callahan takes state
BHS

senior wins first state championship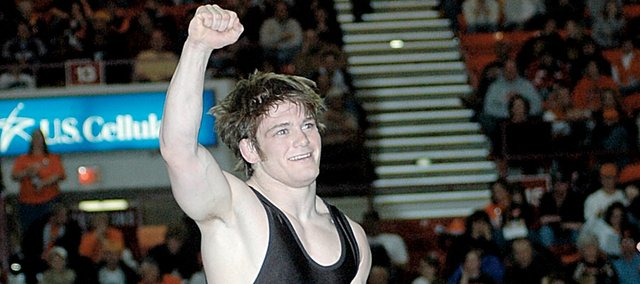 Salina — Kevin Callahan capped off his high school wrestling career by accomplishing his goal that took four years to reach here Saturday night.
Callahan, a Baldwin High School senior, went 4-0 during the Class 4A state tournament. He defeated Chanute's Cameron Jesseph 3-2 to win the 130-pound state championship.
Callahan finished fourth at state as a freshman, second as a sophomore and second as a junior. He was ecstatic to capture the goal he's been chasing his entire high school career.
"There aren't any words to describe how I feel right now," Callahan said after the title match. "It's almost like I don't feel anything. I'm just happy, because all of the pressure is gone."
Harris couldn't have been more happy for Callahan Saturday evening. He picked up Callahan and hugged him after the championship match was complete.
"That kid has worked very hard for this," Harris said. "This meant a lot to him. Of all of his accomplishments and of all the things he's done to leave his mark, this is by far the most important. For him, I am extremely thrilled."
Two other Bulldogs placed at the state meet. They were seniors Nick Rockhold (119) and Gabe Mason (171). Rockhold finished in sixth place, while Mason placed fifth.
Baldwin sent three others to Salina to compete. They were junior Alan Callahan (112), senior Michael Barnes (215) and senior Jacob Enick (285).
There will be a complete story on Callahan's championship, along with another story on the team's success in Thursday's Signal. There will also be a state tournament photo gallery on-line Thursday.