Sending six Bulldogs to Salina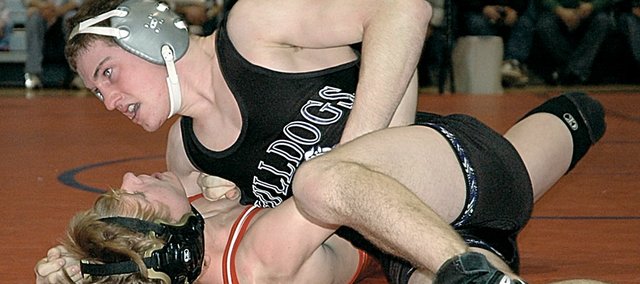 Tough teams and talented wrestlers filled the gym here for the Class 4A regional tournament over the weekend.
After the mats were cleared and the competition completed, the Baldwin High School wrestling team qualified six for the state tournament and finished fourth as a team.
"It's a tough tournament," coach Kit Harris said. "There were some top teams here. My kids were all in some of the toughest weight classes and I couldn't be more proud of them. Every single kid wrestled his heart out. The losses we took were to good, quality wrestlers. I couldn't be more proud of them."
Last year, Baldwin won the tournament as it hosted one of the four regionals. This year, the Bulldogs battled tough and finished fourth as a team.
Prairie View won the regional with 149 points. Abilene finished runner-up with 145, while Santa Fe Trail placed third with 138.5 points. Baldwin scored 128 to finish in fourth place out of 15 teams.
"Those teams ahead of us had some good kids coming in, so for us to be with them was a tribute to all of our wrestlers," Harris said. "Thirteen of our 14 kids won matches and we got some bonus points for pins."
Baldwin was unable to score many points in the first round of the tournament as eight of its 14 wrestlers had byes. Those extra points might have helped the Bulldogs finish third, according to Harris.
"There was 36.5 points that we missed out on and could have had if we didn't have all of those byes," Harris said. "We got eight of those points, so there is still 28 points that we could have gotten. That could have made a difference. Not all of those things go your way, but maybe 15 or 16 points could have and that would have been enough to finish ahead of Santa Fe Trail."
In addition to the fourth-place finish, Baldwin also qualified six wrestlers for the 4A state tournament this weekend in Salina. This year's qualifiers were junior Alan Callahan (112 pounds), senior Nick Rockhold (119), senior Kevin Callahan (130), senior Gabe Mason (171), senior Michael Barnes (215) and senior Jacob Enick (285).
Both Callahans, Rockhold and Mason were seeded in the top four prior to the regional tournament. Barnes and Enick both finished fourth to qualify. To send six to Salina, thrilled Harris Saturday.
"I was really happy to qualify six," Harris said. "We even had a couple others that got in there and gave it a good shot. I'm really excited for Michael and Jake."
A. Callahan was the only Bulldog to be crowned regional champion Saturday. He won all three of his weekend matches, pinning all of his opponents in the first or second round.
"It feels pretty good to be regional champ," A. Callahan said. "Getting that big win will help me get a better road to the finals next week. It feels good right now."
Harris said A. Callahan's regional bracket wasn't nearly as tough as his state bracket will be this weekend.
"You hope your good guys have tough regional brackets, because they would be separated from those guys at state," Harris said. "Alan's weight class at state is tough, but none of those great guys were here. He's going to face some tough competition early at state."
He will head into the state tournament with a 41-2 record on the season. He will be trying to improve on his third-place finish from a year ago.
"My goal is to get to the final and win it," A. Callahan said. "It's apretty big honor just to go to state."
Mason and K. Callahan both finished runners-up in their weight classes Saturday. Mason went 3-1 at the tournament while K. Callahan went 2-1.
Mason lost in the championship round to Prairie View's C. J. Randall, who is 41-0 on the season. K. Callahan was defeated by Paola's Matt Noblet, who is 26-3 and also beat K. Callahan at the Frontier League tournament Feb. 9.
"If they face each other again, it will be in the state finals," Harris said. "He is one of the best wrestlers in the state and he's even had some success nationally. He was injured the last two years, so he hasn't been to state since his freshman year. Those two guys are definitely making each other better."
Rockhold took home Baldwin's lone third-place finish. He went 3-1 on the weekend with two pins and one technical fall. He lost in the semifinal round, but rebounded with two wins in the consolation bracket to place third.
Barnes and Enick both placed fourth for the Bulldogs. Barnes went 2-2 while Enick went 3-2 after losing his first match of the weekend.
"Jake is a second-year wrestler and he's starting to pick it up," Harris said. "It's starting to click for him. Michael has been battling at this sport for four years and this is his first time being full-time varsity. He's had a great attitude and a great season. He has battled through some injuries, so I am really proud of him."
This year will be the first trip to state for both wrestlers. Barnes has been competing all four years to qualify as a senior. Enick began wrestling last year, but has learned the sport quickly enough to qualify in his second year.
"It felt good," Enick said. "I had always wanted to get to state. After the first couple of meets, I had a good record so I thought it could be a possibility. Then I started losing and I wasn't very confident. I really started working hard in practice and I could feel myself getting better during the last couple of weeks. I felt confident at regionals that I could qualify."
Several other Bulldogs won matches during the weekend, but fell short of qualifying for the state tournament. They were freshman Colby Soden (103), sophomore Josh Hanson (125), freshman Will Von Bargen (140), sophomore Heath Parmley (145) and senior Colin Busby (160).
The Bulldogs head to Salina Friday to begin a weekend full of wrestling. The action begins at 9 a.m. Friday at the Bicentennial Center.
"We will be shooting for the top, but a top 10 finish might be realistic," Harris said. "Our team has never been higher than seventh at state, so trying to beat that is always a good goal."
Fans can follow results as they are posted on-line at www.kshsaa.org/WRESTLING/4A/4AStatehome.htm.