Home winning streak at 19 now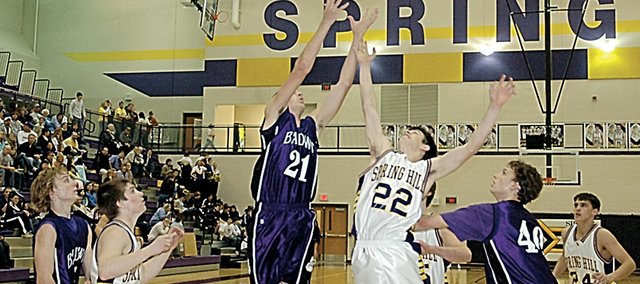 Chalk up two more wins for the Baldwin High School boys' basketball team, both of which came during a 24-hour period this weekend.
On Friday, the Bulldogs traveled to Spring Hill's new high school and came away with a 66-52 victory. They turned around less than a day later and hosted Kansas City Turner Saturday afternoon. BHS survived a much-closer game, winning 63-56.
"Our offense really picked it up those games," senior Drew Berg said. "We were struggling offensively, but during those two games we played on offense."
Although Saturday's win extended the Bulldogs home winning streak to 19 games, BHS coach Eric Toot was focusing on the weekend's impact on next week.
The Bulldogs (16-3) will play their first round sub-state game on Tuesday. If they keep winning, they will play the following Friday and Saturday. That was the same schedule they battled last week, winning all three games, which included a win at Paola on Feb. 12.
"In sub-state we are going to play on Friday and Saturday, if we make it that far," Berg said. "Coach Toot emphasized about getting back and playing with a lot of energy on Saturday."
Toot said those three games helped prepare his team for what it might face next week, with one home game and the others on the road.
"It was a good test for us," Toot said. "Last week was important for us, because it was kind of a setup for sub-state. In sub-state, the boys play Tuesday, Friday and Saturday.
"We approached it that we needed to show that we could play three games in five days and come back-to-back," Toot said. "We were able to do that and it was a positive going into sub-state. It gave us some momentum and maybe some confidence that we can play back-to-back."
On Friday, Baldwin maintained a tight lead over the Broncos for the first half, despite trailing early in the contest. However, BHS began to open its lead during the third quarter.
A four-point halftime lead became 10 points at the end of the third quarter. The Bulldogs increased that to as much as 17 late in the game thanks to six points from Berg and five points from junior Brandon Tommer.
"At halftime, I felt really confident in how we were playing," Toot said. "They hit some tough shots, especially from the three-point line. I was pretty confident at halftime and it carried over into the third quarter. We were able to pull away a little bit and keep it going into the fourth quarter."
Berg led Baldwin in scoring with 19 points Friday. Tommer added 16 and freshman Justin Vander Tuig also hit double digits with 10 points.
The Broncos' full-court press slowed Baldwin down a bit early in the game, but BHS figured out how to beat the pressure and create easy offensive opportunities.
Toot actually said he enjoys when teams pressure the Bulldogs, because it allows senior point guard Dustin Schiller a chance to display his speed and unselfishness.
"It's very tough to press Dustin," Toot said. "He is sort of our press breaker. We try to find Dustin and let him go. I thought they tried to pressure us hard early, but they really couldn't do it. We just get the ball in quick, give it to Dustin and we're off and running.
"Our wings do a great job of running with them and he rewards them," Toot said. "He had 10 assists for the game. We look forward to when teams try to press us, because we think we have the ability to make them pay on the other end."
Saturday's contest wasn't as up-tempo as Friday's game. Baldwin trailed 31-26 at halftime to KC Turner. A 13-7 advantage during the third quarter helped Baldwin take a lead heading into the final minutes of the game.
"We actually got up 15-2 early and they were able to comeback within the first quarter," Toot said. "We had good energy to start, but I think we got fatigued from playing the night before. We got down late in the second quarter, because their best player got hot on us."
Turner took the lead back during the fourth quarter, until Toot called a timeout with a few minutes remaining in the contest. After that break, the Bulldogs controlled the game.
"We were down five with about three minutes to go," Toot said. "We called a timeout and from there we went on a 15-3 run to end the game. We made some great plays down the stretch that we had to have."
Berg again led BHS, this time with 25 points. Tommer scored 13, while junior Clad Kueffer added 11 points.
"It was a good win for us," Toot said. "They are a very athletic team and they are a good basketball team. It was a good challenge for us Saturday."