County services return
Treasurer open office again on part-time basis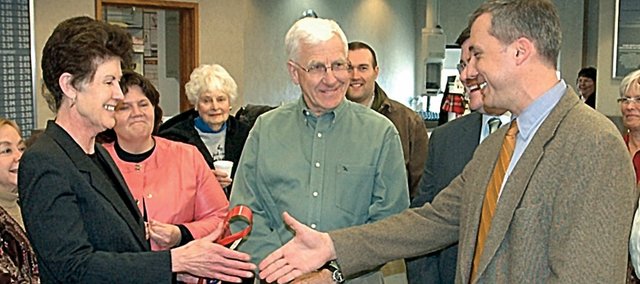 Although an official ribbon cutting opened the new Douglas County treasurer's office last week, Baldwin City residents will have to wait a few weeks to take advantage of the premium location again.
On Feb. 13, the Baldwin City Chamber of Commerce celebrated the opening of the new treasurer's office, located at the Baldwin State Bank office inside the Baldwin City Market. The new office even held a ribbon cutting ceremony to commemorate the office's first week of business. The office was open last week for business.
"We are very excited to have the office open in Baldwin, even though it is on a part-time basis," said Paula Gilchrist, Douglas County treasurer. "Finding fiscally responsible ways to serve our citizens in the outlying areas of the county has long been a goal of the treasurer's office and the county. Changes in technology make it feasible now, and our partnership with Baldwin State Bank makes it possible."
However, the benefits of having a treasurer's office in Baldwin won't affect local residents again until March. The next chance to use the office will be March 10-14, the week it is open next month.
"We will be in Baldwin City the second full week of every month," Gilchrist said. "We will be open March 10-14, April 14-18 and May 12-16. A schedule for the full year is posted on the office window."
The new office will be open from 8 a.m. to 11 a.m. and from noon to 4 p.m. during the second full week of each month. Despite not being open full time, the new office has BCCC President Ivan Huntoon smiling.
"I think it's going to be a great asset for the community and a convenience for everyone in the community," Huntoon said. "It will be great."
The new satellite office will offer the same services as the main office and other satellite offices in Lawrence. Those services include motor vehicle tag renewal, along with Kansas Division of Motor Vehicles and tax information.
"I will enjoy the convenience of driving to Baldwin City Market instead of driving to Lawrence," Huntoon said. "It doesn't seem bad having to drive 15 minutes, until you realize you only have to drive one minute to Baldwin City Market."
Gilchrist agreed about the convenience factor for Baldwin City residents. She hopes the new office will also be used by rural county residents also.
"We hope that the new office will make it more convenient for Baldwin City residents," Gilchrist said. "Although it's a beautiful drive from Baldwin to Lawrence, we hope that our presence in the community will eliminate time on the road, save a little gas in the tank and provide an additional level of service to a couple of special groups: farmers and/or ranchers, and seniors and/or persons with disabilities.
"There will be adequate parking for farmers and ranchers and we will be able to provide handicap parking placards in the community," Gilchrist said. "Additionally, in our multi-tasking society, the Baldwin City Market is perfect."
A branch treasurer's office was in Baldwin City several years ago but was closed for financial reasons. That office, however, was open all month and was in an office by itself.
Gilchrist said the former office wasn't cost effective, but she hopes the new one will be better. She did add that the success of the new one does depend on how much local residents take advantage of the convenience.
"What the treasurer's office found with its first attempt in Baldwin City was that it was used significantly, but not enough to cover the cost of leasing a location full time or hiring a full-time employee," Gilchrist said. "Leasing office space for only one week per month greatly reduces our costs. Nancy Patterson, who will be running the Baldwin City office, remains a full-time employee in Lawrence, where we need her for that end of the month rush.
"The success of our second attempt will depend on business volume," Gilchrist said. "We will do our best to promote our services. We have had a very warm welcome from Baldwin City residents, and are optimistic that we are filling a need in the community. We will need your continued support, and hope that our presence on a part-time basis is a sustainable solution."