Scholars honored; board hears more about bond issue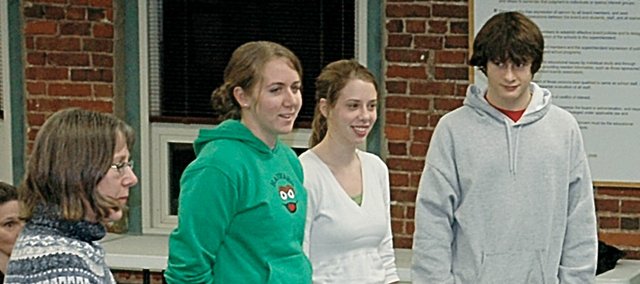 Two recognitions highlighted a Baldwin School Board meeting that was filled with information and discussion regarding facilities, an audit report and health curriculum.
The two recognitions honored Baldwin High School students for recent academic achievements. On Monday night, the BHS scholar's bowl team was recognized by the school board.
After winning the Class 4A regional, the BHS scholars bowl team placed fifth at the state competition over the weekend. BHS sponsor Jana Jorn and three of the four team members attended the meeting. The team members were Colin Busby, Sarah Eberhart, Marianne Schroer and Logan Keener.
"On behalf of the school board, job well done," Board President Alison Bauer said Monday. "Great job all of you. We are proud of you."
Schroer remained standing, as she was the lone person being honored in the second recognition. Supt. Paul Dorathy announced Schroer was a finalist in the National Merit Scholarship competition.
Schroer is one of 15,000 finalists after meeting the necessary academic and other requirements for the scholarship. There will be 8,200 merit scholarships and 1,500 special scholarships awarded. The winners will be announced next month.
"Marianne has worked very hard to be a part of this group," Dorathy said. "We are proud of her and her hard work."
In other news from Monday, the school board received an update about the facilities' committee. Dorathy informed the board about what had happened at the previous meeting.
"The facilities committee has pretty well targeted the needs that they wanted and the price tag was about $28 million," Dorathy said. "They are setting up a 10-year plan to bring back to you. At the last meeting, it was discussed that this needs to be brought down to $20 million or less. The architects and I sat down and took out a few things and we got the price tag down to about $20 million. That will be brought to the committee Feb. 19."
He said the new list of items for $20 million included a new Baldwin Elementary School Primary Center, some renovations to Baldwin Junior High School, a practice track, baseball and softball fields and a new performing arts center.
Dorathy said that the committee discussed when a vote might happen on a bond issue. He said the DLR architects informed the committee that a May vote is possible, but if one doesn't happen in May, the next good time to vote would be in 2009.
He also informed the school board that the committee tossed around different ideas about how to do a vote. The consensus from that meeting seemed to be a mail-in ballot, according to Dorathy.
"I think the committee will bring to you a recommendation on what will be on the bond issue, how much it will cost and when a vote might happen," Dorathy said. "But, ultimately, you as the board have the ultimate decision on this issue."
He is hopeful the committee will make a final decision at Tuesday's meeting. If not, he said a vote won't happen any time soon.
Later in the meeting, the board voted unanimously to hold a special meeting at 7 p.m. Feb. 25. That meeting will be reserved for discussion on the bond issue only.
On Monday, the board also received an audit report from Lorinda Duncan of Agler and Gaeddert, Emporia. Duncan said this year's report was much shorter and improved from a year ago.
Last year's report came after the $300,000 shortfall that was discovered in August 2006.
"Wow, did you guys do good," Duncan said. "There are no budget violations, which is always good."
The final update came from the health curriculum committee. The committee members have been working with Dorathy for several months to improve the health curriculum and better align it with state standards.
Mike Berg, Baldwin High School physical education teacher, attended the meeting and gave a brief update. He said the committee has been working hard to get this done in a short amount of time.
"I thought it was going to be a year-long process, but it ended up being four meetings," Berg said. "It went a lot smoother than I thought it was going to. It went really smoothly."
The committee will bring a final recommendation to the school board at the March meeting.
After executive session, the board approved the personnel report. The only resignation was Kit Harris as BHS class sponsor at the end of the school year.
The hirings included Melissa Strother (BHS 2008-2009 school year biology instructor), John T. McQuitty (Baldwin Junior High School evening custodian), Jerry Roach (BHS assistant baseball coach), Nikki Burnett (BHS co-head golf coach), Susie Martin (BJHS assistant girls track coach), Richard Ebel (BHS assistant boys track coach), Danielle Augustine (BHS assistant softball coach), Neal Hartshorn (BHS assistant baseball coach) and Kayla Pringle (BHS assistant softball coach.
There were two transfers, also. They were Eric Toot (BJHS head girls' track coach to BJHS assistant boys' track coach) and Angie Spielman (BJHS assistant girls' track coach to BJHS head girls' track coach).
The next regular school board meeting will begin at 7 p.m. March 10 at the District Office.