Runners-up three straight years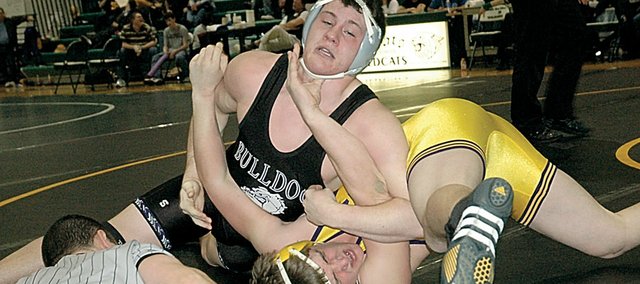 De Soto — DE SOTO - For the third consecutive year, Baldwin High School has finished as the runner-up at the Frontier League wrestling tournament.
The Bulldogs once again fell second to Class 5A Gardner-Edgerton at the league meet. On Saturday, the Trailblazers scored 196 points, while Baldwin earned 156 points to place second.
"It's better than third or fourth, but there are still improvements we have to make," senior Gabe Mason said of finishing runner-up. "Even if we got first, we can still make improvements and get better."
Mason was the lone winner for BHS at the tournament. The Bulldogs' second-place finish also marked the seventh straight year that they have placed either first or second at the league meet.
Coach Kit Harris said BHS was missing two varsity wrestlers at the meet. However, he said those Bulldogs wouldn't have scored enough to beat the Trailblazers.
"We always try to win it, but Gardner is a great team and we are a little short-handed," Harris said. "We are missing two starters, but we can't complain about our performance. We had some great wins and a couple of tough losses, but there is still part of the season left. So, now we get back to work."
Baldwin went into the first-place matches with five wrestlers left to compete. The final Bulldog to wrestle in the championship match gave BHS its lone victory.
Mason won the 171-pound weight class with a quick pin of Spring Hill's Cody Spader. Mason pinned him in 52 seconds to win the weight class.
"I thought I could win the match, but I didn't know how fast I could win it," Mason said. "I came out there pretty pumped up and ready to go and put it to him."
This year marked Mason's third league championship. He won as a freshman and sophomore in the 160-pound weight class. He didn't finish his junior season because of an injury he suffered early in the season.
"Gabe is a three-time league champion," Harris said. "That's pretty cool. He has been sick, so I had hoped he would get in a lot more wrestling. He had a couple of first period falls, which is good."
Four other Bulldogs made the finals, but had to settle for the silver. Placing second were junior Alan Callahan (112), senior Nick Rockhold (119), senior Kevin Callahan (130), and sophomore Heath Parmley (145). Parmley came in unseeded, but recorded two big wins to make the finals.
"Everybody that lost in the finals lost to a good wrestler," Harris said. "We can win those matches, but we've got to have a better game plan and better execution."
In third-place matches, Baldwin was more fortunate, winning four of five. Earning the bronze were freshman Colby Soden (103), sophomore Josh Hanson (125), junior Andy Thurlow (135), and senior Jake Enick (285).
Each of those Bulldogs lost their semifinal match, but fought back in the consolation bracket to place third.
"Our back side kids were the story of the day," Harris said. "Andy Thurlow, Colby Soden, Josh Hanson and Jake Enick came from the back side and got some quality wins. I was really happy with their wrestling."
Soden was fortunate enough to record a pin in his final match, despite trailing. His opponent, Michael Nemer of Spring Hill, pinned himself while in the process of attempting to pin Soden.
"That happens in wrestling, but you have to know when you are in danger," Harris said. "That kid learned a valuable lesson. Colby still wrestled hard and always works hard."
Harris has been impressed with Enick's wrestling this season. He is a second-year wrestler, but has compiled a 22-20 record on the year.
"He is having an awesome season," Harris said. "He was really frustrated about losing in the semifinals, because he has beaten that kid before. So he came back and made sure to wrestle better on the backside and get third. Sometimes a loss is good for a kid. It makes them think harder about what they are doing."
Baldwin's other wrestler that placed in the top four was senior Michael Barnes (215).
The Bulldogs will next compete in the Class 4A regional tournament in Eudora this weekend. The wrestling will begin at 2 p.m. Friday and 11 a.m. Saturday.
"The wrestling is going to be tough," Harris said. "Guys have to place in the top four to go to state. We're going to have four guys seeded top four, then we are going to have about another handful of guys seeded fifth, sixth and seventh. I know they can qualify, but they are going to have to wrestle really well."
Baldwin won last year's regional tournament, but Harris said there are two other teams that might bring home this year's title.
"If you ask me, Prairie View and Santa Fe Trail are the top contenders, but we are right there with them," Harris said. "If we have a lot of things go our way and we wrestle hard, then we will finish where we should."