Baker celebrates 150th birthday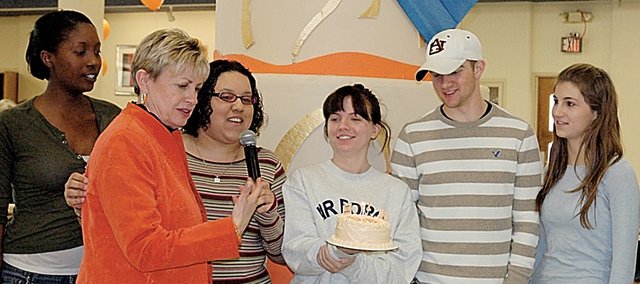 Observing Baker University's Founders Day, students, faculty and staff celebrated with an all-campus luncheon on Tuesday at the Harter Union cafeteria.
February 12 marked the 150th birthday for Baker University, the first college in Kansas. The Baker University charter was signed on Feb. 12, 1858.
The luncheon included Happy Birthday singalongs, prize giveaways and an appearance by WOWzer, Baker's new mascot.
The U.S. Postal Service also participated in the sesquicentennial celebration by issuing a commemorative postmark, featuring the university's seal circled by the words Sesquicentennial Celebration. Baldwin City Postmaster Joan Welch imprinted approximately 200 postmarks on pre-stamped envelopes. After Tuesday, the postmark becomes a collector's item and cannot be used for postage.
Students celebrated the university's rich heritage. Claire Norland, a junior history major from Lindsborg, portrayed Haddie Osbourne in her history of the American West class. Osbourne was the first curator of the Quayle Bible Collection.
Also in the classroom, Marc Carter, assistant professor of psychology, referred to Joseph Haven's book "Mental Philosophy" during his psychology class. According to Baker's first course catalogue in 1862-63, "Mental Philosophy" was a required book for a course.