Langleys sweet on Chocolate Auction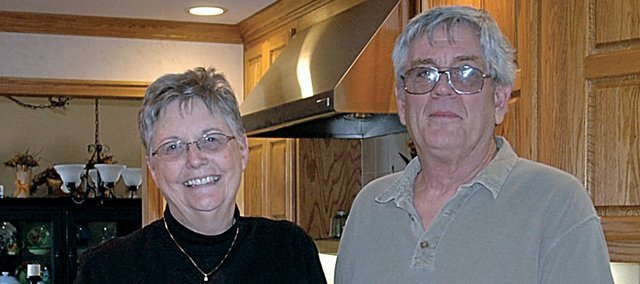 Sunday's annual Chocolate Auction isn't all about the sweets and goodies.
John and Cleo Langley have been proving that for more than five years. For the past several years, the Baldwin City couple has been donating handmade woodwork to the annual event.
"It's just kind of fun to do each year," John Langley said. "We like giving stuff each year."
Once again they will be donating a handmade craft to this year's Baldwin Community Arts Council's 20th annual Chocolate Auction, which begins at 1 p.m. Sunday at the Baldwin High School commons area.
This year's donation from the Langleys will be a rustic alder chest. It's just one of several woodworking crafts they have donated to be auctioned.
"We've donated a toy chest, bookcase, cabinet, toilet toppers and a couple cradles," John Langley said. "For two years we did cradles and we were proud of those. They were kind of nice."
Ande Parks, Chocolate Auction coordinator, enjoys the woodworking crafts that the Langleys bring each year.
"The more stuff like that we can get, the more we can show off the diversity we have in our town," Parks said. "People don't always know about the artistic diversity we have. John is not just a craftsman, he is also an artist."
The Langley's wood shop has been the place of creation for the gifts. However, John Langley has recently allowed two other local men to help create the crafts.
"Richard (Nichols) does the work on his time," he said. "We supply the shop, tools, wood and the power. Then Roger (Taylor) will be doing the finishing on his time. It's kind of a joint effort. The first couple of years I had them do it and I just paid them. Then they decided they wanted in on it, too. It gives us all a sense of accomplishment."
Cleo Langley has created a chocolate dessert and given it to the auction in previous years, but isn't sure she will this year.
"I haven't decided for sure whether I am or not this year yet," Cleo Langley said. "I usually decorate a cake."
As a former board member on the BCAC, Cleo Langley has always enjoyed seeing the artistic side of community members come alive for the Chocolate Auction.
Besides works of chocolate, the annual event also auctions off works of art by area and regional artists.
"I like the arts and I've been involved in that part of it," Cleo Langley said. "It's just a nice community thing. We like the idea that the money from the Chocolate Auction goes to scholarships. That makes us feel like we want to keep involved in it."
Proceeds from this year's event will help benefit local scholarships and the Lumberyard Arts Center Project.
The silent auction begins at 1 p.m. Sunday and will last for an hour with the live auction running from 2 p.m. to 4 p.m. There is a $1 suggested donation for admission. There will be hot chocolate, fondue and snacks at the event.
"The event really adds to the rich artistic culture in our small town," Parks said. "People really enjoy the event."
Another reason the Langley's attend the auction is because they view it as a social event.
"It's a lot of fun every year," Cleo Langley said. "It's a social event with some friendly competition when we bid on the items. Lester Edgecomb, who is usually the auctioneer, adds an awful lot to it to make it fun. It lasts for two hours, but it goes very fast."
Of course, it's not all about donating items to the auction for the Langleys. They also tend to purchase something each year.
"In addition to contributing stuff, we usually end up buying something, too," Cleo Langley said. "We buy some of the art work that is available at the auction."