Freshman hits game winner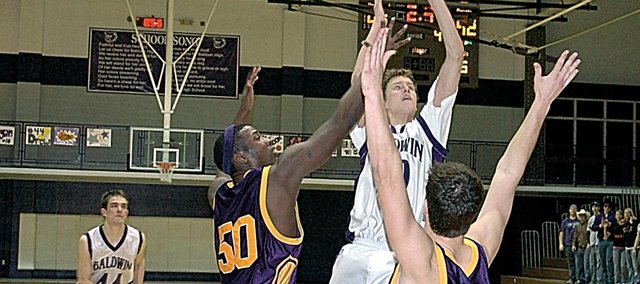 Justin Vander Tuig sank a 6-foot jump shot to clinch a much-needed home victory for his team Monday evening.
With time winding down and the game tied, the 6-foot-7 freshman's basket rolled in with one second on the clock. It was the game winner as the Baldwin High School boys' basketball team defeated Belton (Mo.) 44-42.
"It's nice to go out, play well as a team and get a win again," Vander Tuig said. "I would have to say our confidence was down a little bit before the game, but we wanted to come back and prove to everybody how good of a team we really are."
Monday's win was the first for the Bulldogs (11-3) in nearly two weeks. After beginning 10-1, they lost two straight Frontier League road contests at Gardner and De Soto.
It was also their first home game since the championship of the Baldwin Invitational Tournament Jan. 19. Coach Eric Toot and his players were thrilled to escape with a victory Monday.
"We needed this one tonight," Toot said. "We've kind of lost some confidence and I've been pretty hard on the kids the last couple of days. They responded tonight. We hung in there and battled and I thought we did some good things tonight."
Junior Brandom Tommer said it felt like the Bulldogs had lost several games in a row, so a victory was needed.
"It felt like we lost about five games, even though it was just two," Tommer said. "It hurt losing those games, so it felt really good to win tonight."
Baldwin nearly let Monday's make-up game escape. The game was supposed to be played the week before, but it was postponed because of a light snowfall.
The Bulldogs led 37-31 early in the fourth quarter, but the Pirates mounted a comeback. The Pirates went on an 11-1 run during the next six minutes to take a 42-40 lead with 1:19 remaining.
Senior Drew Berg came down and sank a long jump shot to tie the game with 1:07 left. Belton was called for a five-second violation when trying to inbound the ball with 7 seconds remaining. That gave the Bulldogs one last chance to win the game in regulation.
"We led most of the game, but gave up the lead late," Toot said. "We hung in there and didn't lose confidence. We had a great defensive stop on the sideline inbounds play. Then, we executed really well at the end to make sure it didn't go to overtime."
Senior Dustin Schiller pushed the ball up court and had options for his assist. He found Vander Tuig in the lane. The freshman battled traffic to attempt his game winner. The shot bounced a couple of times before falling in with 1 second on the clock. Time expired before Belton could inbound the ball, giving the Bulldogs the home victory.
"I was supposed to trail the play and it was either a kick out to Clad or Brandon or pass it back to me going down the lane," Vander Tuig said. "I knew the shot was going down."
Toot said the final play is one the Bulldogs have practiced and ran in games before. He is just happy to have Schiller as his point guard in those situations.
"It's a set play we run and we have some options out of it," Toot said. "It might not look like much, but it's something we try to use at the end of the game. You definitely want the ball in Dustin's hand, because he is usually going to make the right decision. Tonight he sure did and that was a big basket by Justin."
Berg led the Bulldogs with 16 points Monday. Tommer added eight, while senior Jesse Green chipped in seven points.
Although it was a win, Tommer said he prefers victories that aren't quite down to the wire.
"It was a little too close for my comfort," Tommer said. "I like five or six point wins."
Baldwin jumped out to an early 14-6 lead, but the Pirates took control of the game in the second quarter. They outscored Baldwin 21-10 to take a 27-24 lead into halftime.
The Bulldogs regained control after halftime as they opened up the third quarter with a 9-0 run as five different players scored during that 5-minute stretch.
"We just haven't gotten in good rhythms with games," Toot said. "We've had some cancellations. I think we will be fine if we get into some kind of rhythm, because there is nothing like game conditioning."
After a few days of practice, the Bulldogs will be back on the court for another league contest. They will be hosting Louisburg at 7:30 p.m. Friday. It will also be winter royalty night at Baldwin on Friday.
"We are going to have a big crowd here so it will be exciting for the kids," Toot said. "They are one of the best teams in the league, if not the state, so it will be a great challenge for us. I know our kids will be excited to play Friday."
The Wildcats defeated Baldwin 70-69 in Louisburg Dec. 7. It was the final game of the Wildcat/Bulldog Classic. Baldwin had three shot attempts at the end of the game to win, but all three bounced off the rim.
"That first one against Louisburg hurt," Vander Tuig said. "We are looking forward to getting a second chance at them and, hopefully, we will get a win this time."