City council is updated on Streetscape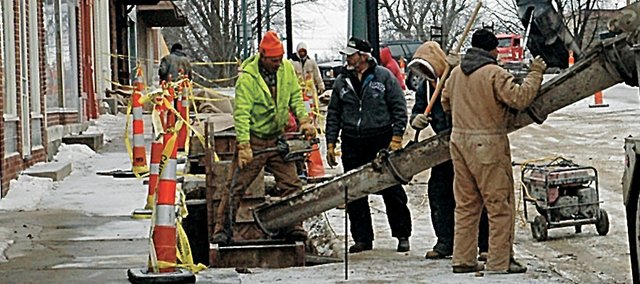 Baldwin City Council members asked questions and expressed concerns about the ongoing Downtown Streetscape project at Monday's meeting.
"Where are we at with the streetscape project?" said Council Member Ken Wagner. "People around town have been asking me about it. Are we half way done or where are we at with it?"
"It's dirty," Mayor Gary Walbridge quickly said regarding the area that's muddy and torn up as a result of the work and recent winter weather.
City Administrator Jeff Dingman said it's hard to say how far along the project is, especially with the numerous weather delays on the $1.8 million project to replace sidewalks, street lamps and improve handicap accessibility among other things downtown.
"We've been billed for more than half of the project and I think we're about half-way done," said Dingman.
Council Member Ted Brecheisen Jr. expressed concerns about the quality of the work being done by Bryant and Bryant Construction, which started the project in June, shut it down just before the Maple Leaf Festival and resumed afterwards as weather would allow.
"There are already cracks in the concrete and that's unacceptable," said Brecheisen. "The ones in front of the lumberyard are terrible. I think there's one by the hair place, too."
Public Works Director Bill Winegar said everyone is aware of the problems.
"They've been pushing it with some of the project," said Winegar. "They are aware of it, we're aware of it. They're going to take those things out."