Baker University, Lincoln share birthday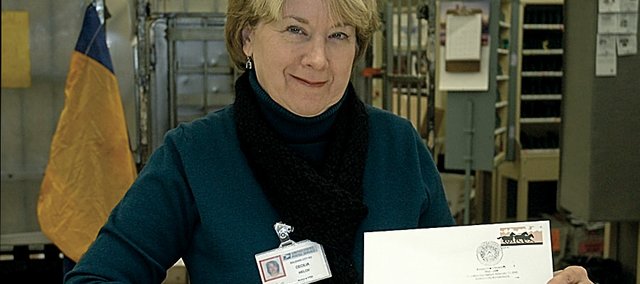 Abraham Lincoln won't be here, but if he was alive, he could celebrate his birthday along with Baker University.
Kansas' oldest university will officially turn 150 years old Tuesday. That day just happens to be Lincoln's birthday, although he was born 49 years before Baker became a school.
"I don't know if it was by coincidence or not," said Steve Rottinghaus, Baker University public relations director. "Baker and Abe Lincoln do share the same birthday."
That's not all. In 1864, Lincoln made a cash gift of $100 toward construction of a larger building at the fledgling university. That building would later be known as Parmenter Hall, Baker's long-standing icon.
Celebrating its sesquicentennial throughout 2007-2008, Baker University will commemorate its Founders Day on Tuesday by observing its rich heritage, hosting an all-campus luncheon and offering a commemorative postmark.
"We've been celebrating all year, but Feb. 12 is the celebration within the celebration," Rottinghaus said. "It is our official birthday since that's when the charter was signed in 1858. We are going to have students and professors involved. It should be a fun event at Harter Union."
From 11:30 a.m. to 1:30 p.m., the students, faculty and staff are invited to an all-campus luncheon at Harter Union. During the luncheon, prizes will be given away and students can have their photo taken with WOWzer, the Wildcat mascot.
Pat Long, university president, will be at the luncheon to help Baker celebrate its 150th birthday.
"Throughout this year we've had theater students dress up as historical figures at various events," Rottinghaus said. "There is going to be a couple of them there. Also our new mascot will pose for photos with students."
The list of characters include Warren Ault, a Rhodes Scholar in 1907, and Lizzie Keifer, a student who kept a detailed journal in the 1860s.
The U.S. Postal Service will help celebrate the sesquicentennial by issuing a commemorative postmark. The special postmark will feature the university's seal, which has served Baker since its golden anniversary celebration in 1909. Its Latin motto is translated to "Let him first be a man," and it contains three Greek words for "soul," "mind" and "body." At the center of the seal is the lamp of learning on the open book of knowledge. Baldwin City Postmaster Joan Welch will imprint postmarks on pre-stamped envelopes from 11:30 a.m. to 2 p.m. at Harter Union on Tuesday. The commemorative postmark is free. However, it can only be placed on first-class mail postage and is valid only on Feb. 12. After that date, the postmark becomes a collector's item and cannot be used for postage.
"We're excited about the commemorative postmark," Rottinghaus said. "It's going to be a one-day only thing, but it can be purchased as a collector's item for the rest of the month."
"That was something that the committee came up with during the planning stages of the sesquicentennial," Rottinghaus said. "They thought it would help connect the community with the event and bring some history to it."
Also for the Founders Day celebration, some Baker professors plan to integrate teachings from the mid-1800s into their classroom experience by including historical material.
On Feb. 12, 1858, James W. Denver, the governor of the Kansas Territory, signed the Baker University charter, which had been approved by the legislature, making Baker the first university in Kansas. Founded by Methodist ministers, the university currently serves nearly 4,000 students in Kansas and Missouri.
Since its founding 150 years ago, Baker has evolved with four schools and degrees ranging from associate to doctorate. The College of Arts and Sciences in Baldwin City offers undergraduate degrees in more than 40 areas of study. The School of Professional and Graduate Studies serves working adults with numerous program son campuses in Overland Park, Topeka, Wichita and Lee's Summit, Mo. At the School of Nursing, Baker partners with Stormont-Vail HealthCare in Topeka to offer bachelor's degrees in nursing. The University's newest school, the School of Education, offers bachelor's master's and doctoral degrees on several campuses.