Callahan's championship tops for 2008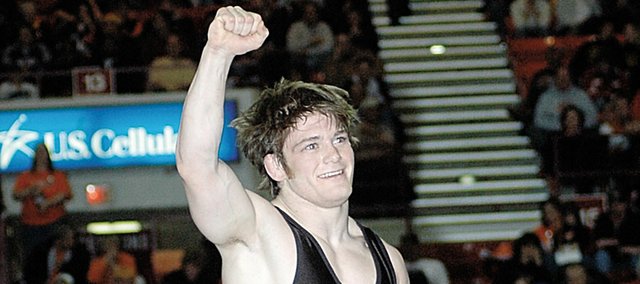 Kevin Callahan picked a good year to have his best ever at Baldwin High School — his last.
Sure, Callahan may have set several records, including the state's career victories, but those all took a backseat to the ultimate prize. He wanted that gold medal around his neck when the Class 4A state meet concluded.
In February, he earned what he wanted. Callahan was finally a state champion. He won the 130-pound championship. After the thrilling 3-2 victory, Callahan stood up and screamed "finally."
"That pretty much sums it up," Callahan said. "This is all I have ever wanted."
When Callahan went to hug his coach after the match, Kit Harris ducked and proceeded to lift his senior wrestler into the air. It was a moment Harris will remember for a long time.
"It's exciting as a coach," Harris said. "The kids are the ones out there working in the circle. He's the one who has logged the hours. To be a part of that as a coach is exciting. Kevin said so many appreciative comments to me after the match. That was very meaningful to me."
The moment of winning his first-ever state championship still stays with Callahan, even 10 months after bringing home the gold medal he worked so hard to achieve.
"The best feeling was right after the match was over and seeing my family and everyone in the stands cheering," he said. "It set in for the most part right then and standing in that one spot on top at number 1 on the podium, where I wanted to be for so many years. I've never been happier in my life than that moment. A couple of weeks later I thought about it and realized that I was among the few people that get to feel that feeling of winning a state title."
Just qualifying for the state tournament wasn't good enough for Callahan, even as a freshman. He dreamed of a state title as a youth wrestler and worked at it for many years before the dream was realized.
As a freshman, he finished fourth at state. He improved the next year by finishing runner-up. Callahan finished third as a junior. Being a four-time state placer wasn't enough to cement his legacy. He felt that state title was necessary.
"I definitely felt if I didn't win a state title then none of the other accomplishments would have mattered," Callahan said. "I've been wrestling for many years and never once won a state title until my last career match in high school. Winning a state title was my main goal since I was a little kid and I fell short so many times it ate at me every day."
Like a cherry on top of his state title, Callahan also set a new record for career wins in the state. He broke the record before the state meet, but his final total was 171 in his four-year career, which averages out to 42.75 per season.
His trio of other state records includes most career team points (1,034), most career technical falls (43) and most career nearfalls-2 (157).
Callahan also holds several BHS records. Those are most technical falls in a season (15), most team points in a season (282), most nearfalls-2 in a season (46), most nearfalls-3 in a season (57), most total nearfalls (100) and most match points (452).
Callahan was also the first-ever BHS wrestler to place at state all four years. He became the fourth state champion from BHS. The other three were Jay Harris (1987), Witt Hinton (2002) and Kyle Flory (2003).
After leaving the wrestling world for a semester, Callahan will be returning this spring. He will be transferring from Pittsburg State University to Pratt Community College to wrestle.
"I missed wrestling and realized I still had a fire," he said. "I knew I'd regret not wrestling in college after my first semester at Pitt State, because I realized I still had some fire in me. If I don't put it out then the rest of my life I'd be asking myself why I didn't and saying what if? I couldn't handle that feeling and that question the rest of my life."
Callahan credited his younger brother, BHS senior Alan Callahan, his parents and coaches for his success in wrestling. He knows how much time and effort they put in to help him and he wanted to express his gratitude.
"All in all I really want to thank all the coaches that put in so much time and effort on making the wrestler that I've become," Callahan said. "People don't realize how much time it takes to coach wrestling. Not only the practices and tournaments, but it takes a lot of time away from them that they could spend with their families. It's not an easy task by any means. Wrestling has been my life for many years and I really appreciate all of the time everyone else spent helping me get to where I am today. Thanks."