Traffic patterns change for High, Sixth streets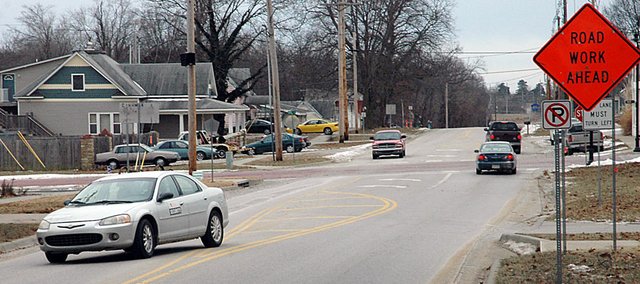 It's semi-smooth sailing on Sixth Street again, but watch out for those U-turns in downtown Baldwin City.
Crews took down the "road closed" signs on Sixth Street Friday and traffic is once again flowing down it south of High Street. The road had been closed since August for construction work.
But not long after those traffic signs came down, others were going up along High Street. City crews installed eight "No U-Turn" signs, two each at four intersections. That marks the first time since the $1.8 million Downtown Streetscape Project began in 2007 that the signs have been posted.
"With the streetscape project complete, we didn't want to clutter it up with a lot of signs," said City Administrator Jeff Dingman. "The signs are not very attractive, but they are necessary.
"In evaluating traffic since the project was complete, U-turns and left turns to park have been more frequent," said Dingman. "We need these signs in place in order to step up enforcement of these violations."
And that's what's going to happen, said Police Chief Mike McKenna.
"Our officers will be enforcing it, I can guarantee you," said McKenna. "We were limited on what we could do and you have to use logic because it wasn't posted. A person could say, 'How was I to know your city doesn't allow it?'
"We want to write good tickets and I wouldn't expect my officers to do anything less," he said. "I'm very happy to have them (the signs)."
There will be more signs to come, also.
"We will also be putting up some 'no left turn to park' signs, but we need to order some more," said Dingman.
As for Sixth Street, it's open to through traffic now, but there's still more work to be done.
"They'll need to close it again when they start back up in the spring to finish the project, but it won't be closed nearly as long," said Dingman. "I don't know any details on that yet."
McKenna also issued his annual warning to those who may drive impaired by alcohol during the holiday seasons.
"I want everyone to have a safe Christmas," he said. "If you are going to drink and drive, it will not be tolerated. We want them to celebrate, but we want them here for 2009, too.
"We will have extra officers out on New Year's Eve to enforce traffic laws and that will include 'No U-turns,'" said McKenna.