Finishing with flair
Dan Harris ready for retirement from Baker University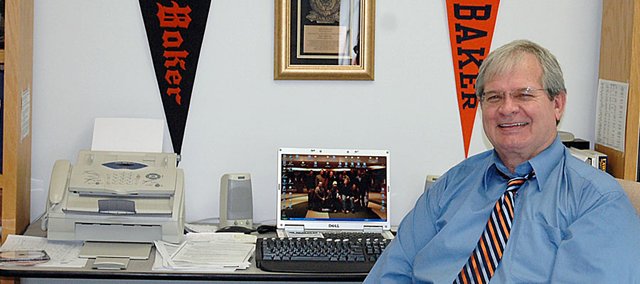 What began with a simple load of firewood will soon end an exquisite career in June … 14 years later.
It's a calling that began at Baker University nearly 26 years ago. During the last 14, it's been a career filled with numerous national awards, new athletic facilities and a hall of fame induction.
Yes, Dan Harris has done a lot as Baker University's athletic director since taking over in January of 1995. Come July, Harris will begin a new life as he retires from his administrative duties.
"It's just everything about Baker — the faculty, coaches and student athletes — that I will miss," Harris said. "I get letters and e-mails from alumni all of the time. Those are things that are better than a paycheck. Those are the memories that really make you feel like you made a difference while you were here and that was my goal."
Harris announced his decision early in the fall. The thought of retirement crept into his head about a year ago, but he postponed it a year. He still wasn't sure this summer that he was making the correct decision, but now he's ready to move his office memorabilia into the basement of his Baldwin City home.
"It was a difficult decision, especially with the market today," he said. "Everyone's 401k is screaming 'don't retire, don't retire.' It's a little bit scary, but I think I'm ready. I'll be 63 this spring. I'm ready to take all of my paraphernalia down to my basement and make my man cave. It's a feeling I've had for about a year and it just feels right to me.
"Just walking around campus these last couple of weeks has given me some time to pause and reflect back on some fond memories," he said. "I'm going to miss this place a lot, because this place has provided me with an awful lot of opportunities."
The decision didn't surprise Harris' youngest son, Kit. It was something Kit, Baldwin High School teacher and coach, foresaw in the last couple of years.
"I've known his long-term plans for a while," Kit said. "I always wondered if he would change his mind, but now I hope he enjoys some free time and relaxes."
That sentiment was also felt by Harris' assistant athletic director, Theresa Yetmar.
"I think it's bittersweet," Yetmar said. "I think it gives him an opportunity to spend time with his grandchildren and family and maybe do some traveling that he hasn't been able to do. His job is so demanding and requires so much of his time.
"We'll certainly miss him here," she said. "He's done a lot for Baker University. He's been a part of facility improvements, scholarship improvements and expanding programs. It will be difficult, but I think it's well deserved."
Fantastic finish
Harris couldn't have picked a better year to retire — or at least he couldn't have asked for a better fall season in his finale. It was almost as if Baker planned the success of the fall campaign.
"We couldn't have asked for a better fall season in his last year before retirement," Yetmar said. "Obviously, we've had a lot of success. It's been an extremely exciting fall."
The two major highlights came from the football and men's soccer teams. The Wildcat football squad played in its first National Association of Intercollegiate Athletics playoff game since 1993 — a year before Harris took over as athletic director. It was also the second straight winning season for coach Mike Grossner's squad.
Baker's men's soccer team made school history by winning its first-ever NAIA tournament game. The Wildcats hosted the game on Nov. 22 and came away victorious, 1-0.
The women's soccer team made it to the semifinal game of the conference tournament. Baker's volleyball team advanced to the Heart of America Athletic Conference's tournament championship. The Wildcats' cross country teams sent a runner to the national meet and the men's team had its best finish in the conference in more than a decade.
"Every fall sport had success. We're setting in a great situation this year. We've had some pretty exciting opportunities so far this year," Harris said. "I really appreciate the coaches and the things they're doing. This was the most successful fall we've had in years. I think this spring could be the same way, so we're excited."
Harris didn't have the same outlook on his final year early in the school year. In fact, he was counting down the days to his retirement, until he had an epiphany.
"I was going through August and September and ticking off each day," he said. "Then I heard a quote that all of a sudden inspired me a bit and changed my whole attitude. The quote I heard was 'Don't count the days, make the days count.' As soon as I heard that, I threw away that calendar and decided that's not how I want to spend my last year."
Exquisite career
In his 14 years at the helm of Baker athletics, Harris has been honored with several national awards. He has also met a handful of famous athletes during his tenure.
His first significant award came in the fall of 2002. He was named NAIA Co-National Athletic Director of Year along with Bruce Brown of Northwest College in Washington. Nine months later, Harris was again honored. This time he was chosen as the 2003 Athletic Director of the Year from the National Association of Collegiate Directors of Athletics.
"Those are neat awards, but so much of that is attributed to surrounding yourself with good people," Harris said. "They do the things that get you the recognition. It's not all about me. It's about the people around me that have been successful, too."
Possibly his most prestigious recognition happened in March 2007 in nearby Kansas City, Mo. He was inducted into the NAIA Hall of Fame. This ceremony will remain in his heart forever.
"I think the one I really enjoyed was the hall of fame one," Harris said. "That was in Kansas City. I was able to have coaches and every single family member at the ceremony. That hall of fame moment was a pretty powerful moment and pretty emotional."
"In fact, I was pretty proud of myself," he continued. "That was the only award I've received that I didn't cry. All of my coaches were betting money I'd be in tears during my speech."
Harris' tenure at Baker was also filled with facility improvements. The largest and most expensive were the upgrades to the Charlie Richard Sports Complex, which included remodeling the baseball field, softball field, a new eight-lane track, Liston Stadium improvements and an artificial turf football field.
The three-phase project was completed in the summer of 2006. Earlier this fall, Harris was visiting the complex and he's still in shock at the outcome.
"I don't think I'll ever get over the emotions of standing on that new track and staring at the new turf field," Harris said. "Each time I go out there, I shake my head and say to myself, 'this is one of the best things we've ever done.' It's a beautiful facility.
"For me, it takes me back to the good ole days of the rain and the mud," he said. "It was so hard to maintain the grass, because we share the field with the high school. It was so difficult to maintain, because of the high traffic. So now, I don't think we could ever wear it out. We have so much stuff going on out there and it still looks like it's brand new."
Another one of Harris' proudest moments at Baker came in January 2006. A former player of his at Baker, Mike McCarthy, was announced as the head coach of the Green Bay Packers.
Before becoming a National Football League head coach, McCarthy was instrumental in Baker's hire of Grossner, two years prior. McCarthy and Grossner were college teammates at Scottsdale Community College in Arizona.
"It still blows my mind that he's at the pinnacle of coaching," Harris said. "It's such an amazing story. He is such an awesome and humble person. He's given back to our program. A lot of the reasons we're having success today is because of Mike McCarthy."
Harris has also been lucky enough to sit next to NFL Hall of Famers Howie Long and Joe Theismann. He also met legendary baseball manager Tommy Lasorda.
"Working at the national level and getting recognized puts you in a position to be around a lot of those people," he said. "I have autographed pictures of some of those people. That's been a really enjoyable part of working at the national level. It's going to be hard to replace all of those memories."
Unforeseeable future
Harris' tenure as Baker's athletic director will end in six months. His next step in life is uncertain, although he's sure whatever it is will require a lot of family time.
"I'll probably do something else. I don't have anything definitive nailed down yet," he said. "I'll probably work on that in January. I think their expectation is that I can spend an awful lot of time with the grandkids now. Seven grandkids will keep me pretty busy. That's an exciting thing I'm looking forward to."
Harris' other son, Jay, and his family live approximately an hour away, so access to his grandchildren is easy for Grandpa Dan. Kit agreed that his father might be enjoying his grandchildren's youth on a more frequent basis, although Kit would be the first to say his father has done a tremendous job of that already.
"He has never hesitated to spend lots of time with his grandchildren," Kit said. "He is very emotionally attached to his grandkids."
Harris might also be doing more housework during his retirement. That's what his wife, Peggy, requested.
"My wife says she's just fine with my retirement if two things happen," he said. "One, she wants dinner on the table when she comes home from work. Two, she wants dry-cleaning delivered and picked up. That's her two requests."
His future is a little cloudy right now, but Harris can't see himself lounging around the house for too long. He still wants to remain a part of Baker University or the NAIA, if possible.
"My first goal is to find an income, so I do plan on having some type of employment," Harris said. "I see myself as providing some type of support involvement with Baker University or the NAIA. I think both are two passions of mine. I feel that it's important to be a part of the NAIA. I also think I owe this university something."
Baker beginnings
Kansas' oldest university has been home for Harris for 26 years. It wasn't his first college coaching job, but it wasn't one he planned. In fact, to this day, he can't believe he actually became a Wildcat.
"I definitely didn't see myself ending up at Baker," Harris said. "I had no thoughts of ever being an administrator. I also didn't see myself going back to the college level."
In the fall of 1983, Harris had a visitor at his house. It was famed Baker coaching legend Charlie Richard. The two coached football together in Moberly, Mo. Richard came to drop off some firewood and ask Harris about a job opportunity.
Harris was a teacher and coach at Grandview (Mo.) High School. He spent seven years there as the head wrestling coach and assistant football coach. However, that was all about to change.
"Charlie said, 'Dan, what do you think about coming to Baker and becoming an assistant football coach and head baseball coach? You'd be teaching some classes and be taking a $15,000 pay cut,'" Harris said. "I have no idea why, but I didn't hesitate or pause, and I said 'sure.' Peggy looked at me with a cold stare, like 'what are you doing?'"
He continued on that path until Richard's sudden passing in December of 1994. Then Harris was promoted to athletic director, which presented him with an awkward dilemma.
"I realized the challenges that were there to be an effective athletic administrator and be a head coach," he said. "So one of my very first decisions as an AD was to fire myself. I hired a new baseball coach the following year."
Harris wrote his own chapter in Baker's 151-year history. To think it all started with a load of firewood still boggles him.
"Still, to this day, I question why I made that decision," he said. "I was happy at my job and I was making a lot more money. I wouldn't trade these last 26 years now for anything. To think it all started with that delivery of firewood is amazing."