Final tune up successful for
BHS

boys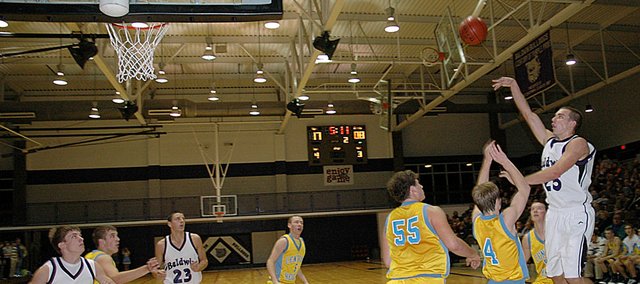 Baldwin High School's boys' basketball team outscored Central Heights 18-2 in the third quarter Friday.
It isn't exactly what coach Eric Toot would prefer to see from his squad, but it was enough to boost the Bulldogs to a 52-31 victory.
"We've really come out strong in the third quarter in all of our games," Toot said. "In my opinion, we're playing a little too much in spurts. We need to be more consistent. I think that will come, because we've been moving guys around and trying to find out what's best for our team."
The win was Baldwin's third at home this season, with its other coming at Wellsville last week. On Friday, BHS was led by seniors Brandon Tommer and Clad Kueffer. Tommer scored 15 points while Kueffer added 11.
"It was really big for us to get out of December 4-1," Kueffer said. "We know we have a couple of players coming back so hopefully we can start rolling after the break."
Seven players scored for the Bulldogs during the third quarter. Tommer led the Bulldogs with four points during the period. Other contributors were senior Logan Schiller, senior Jared McCall, senior Sam Beecher, sophomore Kyle Pattrick, junior Camdon Schwartz and Kueffer.
"We're going to have a deep bench this year," Toot said. "This is going to be the deepest bench we've had in my three years here. We've got two more guys coming. We've also got guys coming in off the bench that are really contributing."
BHS took control of the game from the beginning. Tommer drained a three-pointer to open the game. BHS led 12-2 late in the quarter and took a 14-6 lead into the second period.
Both teams exchanged points before halftime. Tommer and Kueffer scored all of Baldwin's 12 points in the second quarter.
"We came out and played really well from the beginning," Toot said. "We would get up eight, 10 or 12 and then make a silly turnover to let them come down and score. We have to get rid of those types of plays. We need to start extending our lead and putting teams away."
Kueffer scored eight of his points in the second quarter. Six of those came from a pair of three-pointers.
"I felt like I got out of a slump tonight," Kueffer said. "It felt pretty good to knock some shots down."
His coach was also happy to see his senior drain a few shots Friday.
"We moved Clad to the point guard against Wellsville and he struggled that game," Toot said. "He's a great kid with a lot of character. He came back tonight and he was awesome. I just can't say enough about how Clad bounced back."
The Bulldogs are off until they host Eudora on Jan. 9. During the next two weeks, Toot hopes to get his entire team healthy and improve offensive efficiency.
"We'll take a week off here and then we'll come back and get after it," Toot said. "By that time, I think Justin (Vander Tuig) will be healthy and Zach (Wright) will be one more game from playing. We'll have our whole squad together and try to make a run at the second half of the season.
"We just have to get better at what we are doing over break," he said. "Offensively, in the half court, we are really struggling. At times we look great, but we're not doing it consistently enough. We've got to get Zach and Justin ready to go, which will be tough at first. There are no easy ones from now on so we have to be ready first game out."