Aussie enjoys snow, Baldwin City stay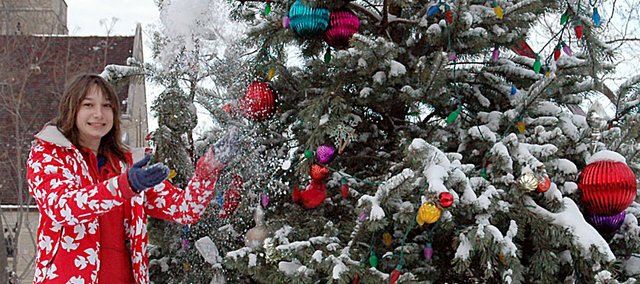 Snow and frigid temperatures aren't common on the eastern coast of Australia.
While most locals were bundled up and keeping warm inside their houses, Jane Waugh was enjoying her summer vacation. She spent two weeks in snowy Baldwin City, instead of on the beach near her hometown of Brisbane, Australia.
"I'm not a big fan of summer," Waugh said. "I prefer winter. It's just too hot in the summer. I love wearing jumpers and jackets. Everything is more fun in the cold and snow, I think."
In conjunction with the Baldwin City Lions Club, Waugh spent one-third of her exchange program visit here. The 18-year-old Brisbane resident stayed with the Rakes family.
Back home, Waugh would be enjoying her two-month summer holiday after her recent high school graduation. She passed on the warm climate and opted to play in the snow last week with Preslee and Kaylee Rakes.
"I did play a bit until my hands get too cold," Waugh said. "I've made a few snowmen, but they don't so much look like snowmen. I've also made a couple snow castles."
If she had stayed home, Waugh would still be celebrating Christmas Thursday, which would actually be today because Brisbane is 16 hours ahead of Baldwin City. She would have been celebrating the holiday in much warmer weather.
She still might be enjoying a warmer climate this week. She left Baldwin on Thursday and headed to northern California for two weeks. Her final two-week stay will be in southern California with a group trip to Disneyland. Then she'll return to Australia, a place she hasn't missed for the past three weeks.
"I haven't really missed home, because we're on holidays at home so nothing is really happening, especially in the weeks before Christmas," Waugh said. "Everyone is just waiting for Christmas to happen. I'd like to stay here longer."
Although Waugh hasn't missed home, she will be missed here.
"I'm going to miss her terribly, I can already tell," Tina Rakes said.
Getting adjusted
Waugh's trip to Kansas City was one she hoped to forget. She spent nearly 36 hours in either an airplane or airport before finally meeting the Rakes family.
The time difference and jetlag made Waugh's first couple of days here slightly rough. She learned to adjust to Baldwin City – in more ways than one.
"Jane came from a community of 2 million, so I was concerned she would be like 'where in the world am I at?'" Rakes said. "I was kind of glad she came here first before she went to California."
Rakes' youngest daughter, Preslee, 14, was the one who got all of this started. Her interest in becoming a foreign exchange student put Rakes in contact with Mike Gammage of the Baldwin City Lions Club. About a week after they received information on the Kansas Lions Youth Exchange program, Gammage asked Rakes if she would be interested in hosting someone.
Waugh arrived nearly three weeks ago and she instantly befriended Kaylee and Preslee.
"I enjoyed being here," Waugh said. "I like the small city and the hills. I also liked the snow, because we don't get any snow at home. We went shopping in Lawrence. I also went to school today and I enjoyed the difference in that. I had fun being shown around by Kaylee and Preslee."
Rakes enjoyed watching her daughters interact with Waugh.
"As a parent, I saw that she blended very well with both of them," Rakes said. "She spent time with both of them."
Culture clash
While American and Australian societies are common in many ways, they are vastly different in other ways. During her fortnight in Baldwin City, Waugh tried to experience as much of the culture as she could.
"It is interesting, since it's our first one, because we don't know what to expect and they don't know what there is to see," Rakes said. "As we drove around or sat at home, we learned more about her culture."
Waugh traveled around Lawrence, visited St. Louis for a weekend, spent a day in Baldwin High School and got the true American experience — watched television.
We have American television, but not like it is here," Waugh said. "There is like 50 channels here and we have five. I would turn on something and think 'that's really weird,' then I would begin to watch it."
Only a tiny portion of her time here was spent watching TV. The Rakes family tried to show her a slice of Kansas life. In Lawrence, they went to numerous places, including Pet World, the University of Kansas and, of course, Wal-Mart.
"We went to Wal-Mart. I had fun there," Waugh said.
Pet World was an experience for Waugh. Back home, citizens must have a special license if they wish to own rabbits, gerbils, ferrets or hamsters. She also said snakes and turtles aren't treated as pets in Australia.
She has a dog and fish as pets. However, there was another animal she might enjoy as a pet.
"I like the animals here," Waugh said. "I hadn't ever seen squirrels before. They are everywhere here. They're really funny."
Her last weekend in the Midwest was spent in St. Louis. Rakes' oldest daughter, Onnalee Fore, lives there. On their trip, they visited the Gateway Arch, the St. Louis Zoo and a museum.
"It was fun. There was a lot to see there, but we didn't have a lot of time to see everything," Waugh said. "The arch is much bigger than people say. It actually is a huge arch."
Waugh's final day was spent at BHS. She said her all-girls, private school back home was more like a college campus in the U.S., with separate buildings for each subject area. She also said Australian students spend as much time outside as they do inside the classes.
"I enjoyed school. It is a lot more relaxed and quiet back home than school here," Waugh said. "It was very rowdy here. There was screaming everywhere and inside the classroom, chairs are turned upside down. The teachers were just off in their corner sort of hiding. I met lots of people and they were all pretty interesting."
One aspect of American culture that Waugh didn't care for was the food. She didn't like many things, but she found some items that she loved.
"I don't really like the cheese and peanut butter," Waugh said. "There is cheese on everything and all of the chocolate is covered in peanut butter. I've liked a lot of things as well, like the pop tarts and ice cream. There is a lot of ice cream around, although it's winter. I like pretzels and hot chocolate, too. It was hard to adjust at first, but now I know what to eat and not eat. I'll come back and visit. I have some connections now if I decide to come back."