Holidays spur eating disorder concerns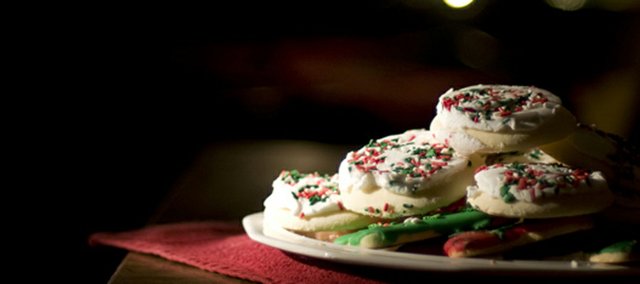 When Kate, a 22-year-old Kansas University student, went home for Thanksgiving last month, she sat down with her family and laid out some ground rules.
She asked that they nix comments on how much she was eating, whether it be too much or to little.
Kate has spent the past nine years battling anorexia and bulimia. She says she deals with the pressures that come when she visits her out-of-state family for the holidays.
"The worst is when you feel like you are constantly being monitored," said Kate, not her real name. "How many times you are in the kitchen, how much food you put on your plate, if you go to the bathroom or if you aren't eating."
Food — and overindulging on it — is part of the holiday season. From anorexics to morbidly obese compulsive eaters, the focus on food from Halloween to New Year's Eve can be a struggle.
Angie Viets, a Lawrence psychologist with Renew Eating Disorder Recovery Center, said the highest incidences for relapses in eating disorders occur over the holiday season.
As with other addictions, eating disorders are a way to cope with the stresses in life, which seem to accumulate during the holidays. Adding to that pressure for people with eating disorders is not knowing what will be served at holiday meals, seeing friends or family after gaining or losing a significant amount of weight and fearing that others are monitoring your food consumption, Viets said.
"When you think about the holidays, you think about three things: food, family and friends," Viets said. "That is what it's all about."
Patty Metzler, a clinical dietitian with Lawrence Memorial Hospital, said people with eating disorders also feel the need to "fit in and eat like everyone else." That anxiety can keep people away from holiday gatherings.
"For them it's not as simple as just going to grandma's house and filling their plates with food," Metzler said.
A time of trigger foods
For one 47-year-old Lawrence woman who attends Overeaters Anonymous, the holidays can be cumbersome. In the past, food was a way to ease insecurity in social settings.
"If I'm not drinking alcohol and if I'm not eating, what do I do?" said the woman, who wished not to be named. "The biggest piece for me is learning how to connect with other people."
Her danger foods — tortilla chips, creamy dips and green bean casserole — are prevalent this time of year. Those trigger foods can often lead people to binge eating.
"Food served around the holidays — there are lots of sweets, high carbs, high starches — those are the foods that are the tricky ones," said Naomi Lippel, who is managing director of Overeaters Anonymous Inc. World Service Office.
Overeaters Anonymous uses the same 12-step program and anonymous meetings that can be found at Alcoholics Anonymous.
Starting at Halloween, OA gears up for the challenges faced during the holidays. On Christmas Day, it will conduct telephone meetings around the clock.
"It's just like New Year's Eve is difficult for someone who has been drinking," Lippel said.
Charting the holidays
People with eating disorders and their family and friends can take steps to help navigate through the holidays.
For OA, attending meetings and connecting with sponsors are recommended.
Another option is keeping in contact with therapists, dietitians or a support person who helps ground the situation.
For those worried about what will be on the menu, Viets said it helps to call ahead of time to know what is being served. That way, a plan can be prepared for how to handle the food. It's also OK for people with eating disorders to ask that certain foods not be served, Viets said.
Metzler recommends not skipping meals and sticking with the regular food plan as much as possible.
For the hosts, Lippel said they can offer a special dish that would help the person with an eating disorder navigate the meal, or organize a potluck dinner so the person can bring a dish her or she is comfortable eating.
And, pushing food on someone with an eating disorder is a big no-no.
"You shouldn't watch what they are eating and nudge them and say, 'Well, don't you think you might want to try a small portion of this?' " Metzler said. "Let them guide what they choose to eat. That is the important thing."
Watch what you say
Kate said her eating disorder began her freshman year of high school when she wanted to lose weight for soccer tryouts. She said it's a roller coaster ride toward recovery. Unlike a drug addict or alcoholic, people with eating disorders can't quit cold turkey.
Along with the monitoring that occurs when she goes home, she also said too much attention is paid on physical attributes.
"If you haven't seen someone in over a year, it's the No. 1 thing they look at," Kate said. "You feel stressed to impress the family when they are the last people you should have to impress."
Viets recommends that people not comment at all about weight or food (even if it's a compliment).
For Kate, off-handed comments, such as someone saying a pair of jeans she tried on while shopping were too tight or jokingly ask whether she is really hungry, have the power to derail her day and stirs thoughts of purging.
Viets, the psychologist, recommends shifting much of the holiday focus from food and weight to relationships. Instead of worrying about what to eat at the dinner table, Viets suggests putting more attention on connecting with family and friends. Rather than complimenting someone on how much weight they've lost, she recommends highlighting something they like about the person such as their laugh.
If family and friends want to talk about the eating disorder they should sit down one-on-one and ask the person how their recovery is going.
"Focus on the whole person rather than on this particular struggle," she said.