Jones sentenced in murder of Baker student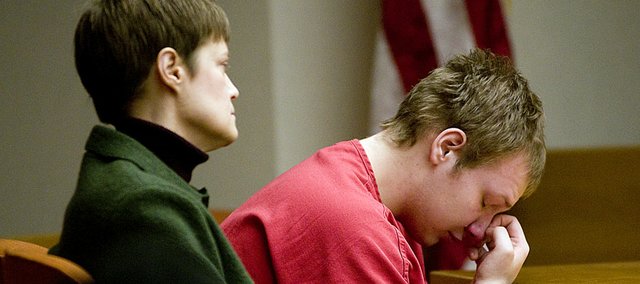 A more than 14-year prison sentence was handed down Friday morning to Kellam Jones, a Lawrence teenager who pleaded guilty to second-degree murder in connection with a June 7 double homicide in east Lawrence.
Jones, 17, admitted that he killed 20-year-old Baker University student Roland Klundt during a botched robbery by firing approximately eight shots at him with a semiautomatic rifle. Jones' accomplice, 18-year-old Gage Hauk, was shot and killed by Klundt.
During a Nov. 13 plea hearing in Douglas County District Court, Jones entered into a deal with prosecutors. In exchange for the murder plea, as well as guilty pleas for attempted aggravated robbery and attempted aggravated burglary, Jones agreed to a prison sentence of 13 years and five months.
Prosecutors said Jones — who was 16 at the time of the crime — shot Klundt in the neck and face, when Hauk and Jones went to rob Klundt's home, 1311Deleware, to rob him of drugs and money.
Jones was initially charged as an adult with aggravated robbery and felony first-degree murder in the case and would have faced 20 years to life in prison if convicted of the murder charge. But, District Attorney Charles Branson said it was possible a jury could have found Jones guilty of lesser charges and that the plea guarantees Jones will spend significant time in prison.
As part of the plea deal, prosecutors said they won't file charges against Jones for additional charges of robbery and burglary at the house. He also will not be charged for a misdemeanor possession of marijuana charge.
Jones was represented by Julia Spainhour, a defense attorney of the Northeast Kansas Conflict Office. The case was prosecuted by Branson and assistant district attorney Deborah Moody.
District Judge Michael Malone presided over the case.